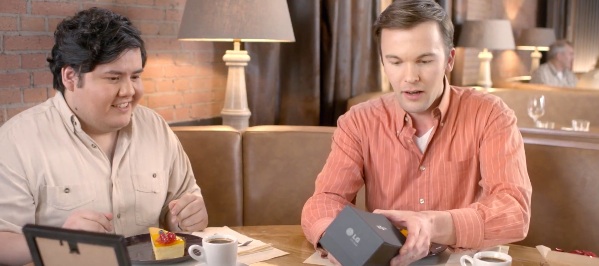 It's 2014 and human beings have been exposed to just about every marketing trick in the books.
Lately, we've seen companies resorting to bizarre advertisements that virtually guarantee sharing across social media.
Sometimes, these plans work. In other cases, they make the company look stupid. Samsung's latest weird Galaxy Gear snowboard commercial, for example, was likely designed to be serious.
But can you really say a commercial backfired if it gets talked about on social media and Android news websites like One Click Root? Probably not. The worst commercials don't get talked about at all.
Anyways, check out this latest monstrosity from LG:
The original official LG video was removed – likely due to negative backlash. The entire 2 minute duration of that video is bizarre. LG doesn't reveal the point of its commercial until about 1:30 in, when the slogan "The Most Human Phone Ever" is revealed.
Still, that's no excuse for having someone stuff pieces of cheesecake into a hand filled with a mouth and pubic hair.
I like this commercial better than the recent Samsung snowboarding commercial. LG's commercial isn't quite as cringe worthy – it's just weird. From the unexplained mariachi singer at the start of the commercial to the guy making out with his hand at the end, there's really no explanation for this one.
By the way, here's the ultra creepy, super cringey Samsung commercial for your enjoyment:
At least Samsung is sticking to its guns by not removing the video from its official YouTube account. They did, however, disable ratings for the video, which I assume would just be a gigantic red bar of hate.
Whether you're filming a stranger snowboarding down a hill or making out with the palm of your hand, smartphone manufacturers are either marketing idiots….or absolute geniuses.