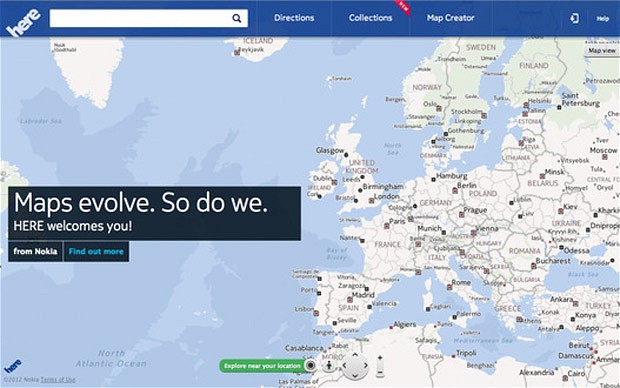 In August, Nokia took a major decision to sell its once thriving handset business. It sold to Microsoft and that did cause a major flutter in the telecom industry. After all, it had been a leader in this business for a long time. However, the inability to quickly adjust to market requirements meant that it had to concede market share to some of the other top brands and that compelled it to sell off the business.
But, it continued to roll out newer versions of its HERE mapping to Samsung smart devices that were powered by Android as well as Tizen. It retained the HERE map and networking businesses. It was not very clear at that time when it rolled out the HERE version for Samsung if it would make HERE available to other Android devices.
HERE Is Now Available For All Android Devices
Nokia has announced it would make HERE now available for all Android devices especially smart phones. It said it is in the process of testing many devices and all those smart phones running Android Jelly Bean 4.1 and higher with 1GB RAM and a screen display size of between 4-6 inches would be able to avail of HERE.
Nokia is yet to launch HERE on the Google Play store but users are now directed to "side load" the app from the company's website. The user can also side load the app to his phone after first downloading on the PC. The instructions are clear on the Nokia site.
The reason for not getting the app into the Google Play store is ostensibly to complete testing of the mapping application. Nokia is seeking more feedback and awaiting bug reports so that they can iron them out and then release for the Google Play store. Nokia has talked about Android "cache cleaners" reportedly wiping out navigation voices on the HERE and would like to fix that at the earliest.
HERE Maps – An Important Business For Nokia
The HERE maps is one of the few remaining consumer facing businesses for Nokia and it would surely like to make the best out of it. Usually it prefers a business partnership and that could be another reason why it has not put the app on the Google Play store yet. It may want mobile testers to provide feedback and clean up coding before it signs another deal with any company after Samsung for HERE.
HERE is an alternative to the maps offered by both Google and Apple. It provides traffic, transit and weather data for more than 200 countries including offline access. The only problem Nokia might face would be with its distribution. Samsung Galaxy Store does not enjoy the footprint of a Google Play store and that is what Nokia would be trying for. It would want the reach of Google to make HERE popular among users. The objective therefore is to make the app a perfect one before tying up with Google.