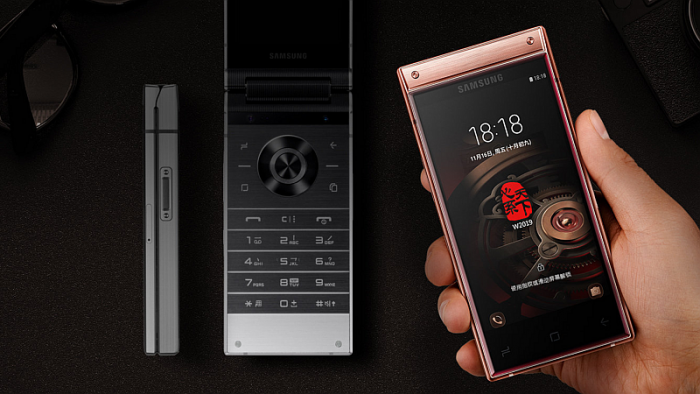 Last week has been all about the foldable Android smartphone hype. Apparently, as expected, Samsung has not officially launched the highly anticipated foldable phone during the conference. Instead, the South Korean company introduced another thing of beauty that will put other Android smartphones to shame.
Introducing the Samsung W2019 flip phone, the successor of Samsung W2018, and the brand's newest ultra-premium phone. Here's what makes the W2019 so special.
Aluminum Tank
At first glance, one will immediately get the impression that Samsung designed an absolute tank. It is arrayed in aluminum and unique hinges. For increased protection, the flip phone has an added glass cover at the front, back and inside. The back glass is made out of Corning Gorilla Glass. The front and inside glass panels were not disclosed.
Ultimately, the Samsung 2019 seems like it will break the floor when you drop it. Solid look. The phone is available in two colors – Platinum and Rose Gold.
Camera and other features
This new ultra-premium flip phone also does not fall behind media functionality. The front camera comes with 8MP lens and doesn't show much promise. However, the dual rear cameras compensate the front camera's simplicity.
The two rear cameras both have 12MP lenses with OIS, 2x optical zoom, video recording if up to 4K resolution at 60fps, and the incredible Full HD-resolution slow-motion video at 960fps. Both cameras also support f/1.5 and f/2.4 that should be perfect in a low-light environment.
The fingerprint sensor can be accessed at the side just beside the Bixby button. Sadly, the headphone jack is missing.
Dual Screen
The Samsung 2019 ultra-premium flip phone features a dual screen as well. It features a 4.2-inch Super AMOLED display with 1920 x 1080 resolution. Both screens share the same specs.
Having two screens is convenient. If you're sick and tired of typing on a touchscreen keyboard, you can simply flip the first screen and find a directional pad and a number pad just below the second screen. The directional pad goes to four directions namely Home, Back, Overview, and Copy.
Having another screen and another set of keyboards may be redundant, but elderlies and PWD users will be loving it.
Hardware and Software
This classic flip phone features the powerful Snapdragon 845 processor backed with 6GB of RAM and either 128GB or 256GB of storage that is expandable up to 512GB. It has 3,070mAh battery which is a little low, but I believe that's where the Samsung AI assistant comes in.
Surprisingly, it will be running on Android 8.1 Oreo right out the box. Update to Android 9 Pie has not been announced but expected to arrive soon.
Price and Availability
There is one feature that disappoints the world though, the powerful Samsung W2019 ultra-premium flip phone is only available in China. Rather sad, but we hope Samsung consider the world before the end of 2018.
It will be more expensive than the Samsung Galaxy Note 9 priced at CNY10,000 or about US$1,439.
What makes the phone so special? Buyers of the phone will get exclusive concierge and VIP services. Samsung wants to prove that users of an ultra-premium phone deserve an ultra-premium service.