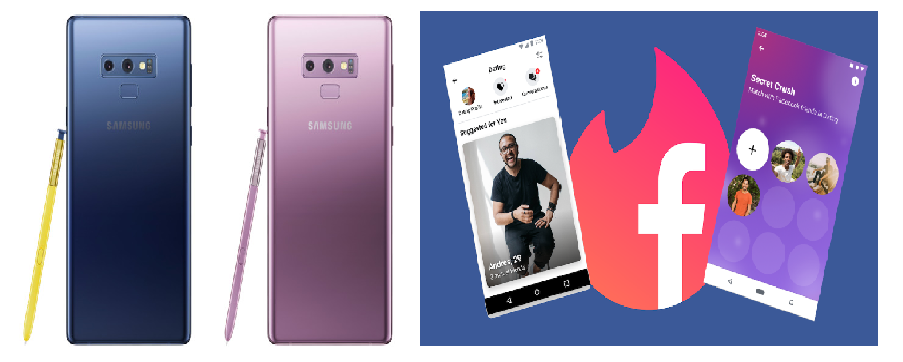 We recently heard the news that Google and Alphabet CEO Eric Schmidt is finally stepping down from his position. Schmidt announced that he will no longer seek re-election once his term ends on June 19, 2019. Although that's about two months from now, today marks the first step he is taking in ending his labor days.
On the lighter side, two of the equally respected companies in the world, Samsung and Facebook, give us something to cheer on this 1st day of May. Here they are:
Samsung Galaxy Note 9 April update
Samsung is rolling out the April Android security updates to the Galaxy Note 9 along with some minor tweaks. The update is first landing in Germany, but expected to roll out to the Netherlands, and most probably the rest of the world, soon.
The update is big, about 520MB which includes giving the user the ability to set a schedule for its Night viewing mode. Users can now also alter the field of view when taking selfies with the option to choose between 68 and 80 degrees when using a selfie camera.
U.S. carriers also rolled out the April security patches this month but there's no mention whether the Night mode and selfie tweaks were included in the OTA. Check you Night Mode settings and selfie camera to manually see if you received the other upgrades. If not, it is almost certain that they will arrive in a future OTA.
Facebook Dating and "secret crush" feature
Facebook launched Facebook Dating in Colombia as a test run in September 2018. Turns out, many people are hitting the thumbs up emoji on this one and the service is now live in 5 countries with additional 14 more soon.
Today, Facebook announced that the company is committed to bringing the said service to the U.S. by the end of 2019.
Facebook Dating, basically, is a dating app. You need to opt-in to use Facebook Dating and the company said that there is still no plan to monetize the service. Well, we've seen that movie a few times. Now, Facebook videos are also being monetized.
Furthermore, Facebook Dating is getting a new feature called "Secret Crush." Do you have that long-time Facebook friend you can't say "I love you" to? Then, the platform is giving you the opportunity to finally spit it out. The purpose of Secret Crush is to help you connect with people you are already friends with.
All you have to do is select nine people on your friends list whom you have a crush on. If they're opted-in on Facebook Dating, they'll receive a notification that a friend of theirs has a crush on them. If they go through the same process and also chose you as one of their crushes, then the couple matching happens, and Facebook Messenger chat automatically begins.
You can't abuse the system though. Once you select your nine crushes, you can only sub out one of those crushes each day. If you have hundreds of friends, it could take you years to get through them all. So, choose your crushes wisely.