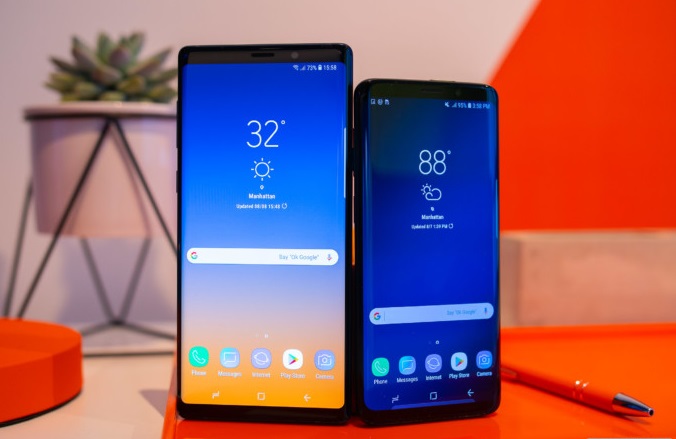 One attractive quality of the Note9 is its exceptional battery life. Over my week of testing the device including using it to shoot photos, send emails and texts, use social media apps and play games it had a longer battery life than any smartphone I've used. Often, I still had at least 30 percent of battery remaining by bedtime after a day of use. The vast majority of phones I have tested always needed to be recharged by evening. Yet I was less impressed with this phone's physical durability. During a light stroll in a park, the Note9 dropped out of my coat pocket onto concrete, sustaining ugly scratches on two of its aluminum corners. The phone wasn't wearing a case (my bad!), but this wasn't even the glass part of the device. Shouldn't an expensive product be less delicate? The material around the phone is an aluminum that is durable and allows the transmission of radio signals. If customers want a tougher model, she said, Samsung sells rugged phones called Galaxy Active.
Like Samsung's flagship Galaxy S9, which was released in March, the Galaxy Note9 has a dual-aperture camera system. That means the camera has a mechanical aperture that adjusts to different light conditions. So in scenes with bright light, it will step down to the narrower aperture to avoid overexposure, and in low light, it will automatically change to a wider aperture to draw in as much light as possible. In my tests, photos in bright light looked very clear and detailed. Brighter colors, like pinks and yellows, appeared more vivid which is not my preference, though some people like more exaggerated-looking photos for Instagram. In general, the pictures looked as good as the ones taken on the Galaxy S9+, which I rated as an excellent camera.
Yet I didn't love using the Galaxy Note9 as an everyday camera the way I did the Galaxy S9+ and other smaller phones. Its longer and wider body made it cumbersome to handle, and the curved sides of the screen made the phone more slippery to hold. So in those serendipitous moments when you want to whip out your phone and fire up the camera right away, the Galaxy Note9 will slow you down: Its body makes it difficult to quickly pull out of a pocket and stabilize in your hands to take a clear shot.
The pen is the main reason to consider the Note. The signature feature of the Galaxy Note has always been its digital pen for writing and drawing, called S-Pen. For the Note9, the pen got a significant upgrade: It now includes a button that you can press to use as a remote control. This is my favorite feature in the new Note. You can use the pen to remotely control different tasks. By default, you can press the pen button once to take a photograph. That is helpful especially if you are shooting a selfie: It's much easier to hold the phone in front of you with one hand while using the other hand to press the button on the pen. The S-Pen button can also be reprogrammed to change slides for a presentation or to start and stop an audio recording.
The S-Pen should be the primary reason to consider this phone rather than a different Samsung device, like the Galaxy S9 or the Galaxy S9+. Those phones lack pens but cost $620 to $860, are also very fast and have slightly smaller screens and bodies, which make them easier to handle. If you're on the fence about whether this phone is right for you, consider Samsung's target audience. Ms. De Silva said the Galaxy Note9 was for people who were "exclusively living on their device" to work, play, shop, create, read and watch videos. "It's an all-in-one," she said. For me, that was the deal breaker. I am constantly striving to spend less time on my phone anyway, so a cheaper one will do.