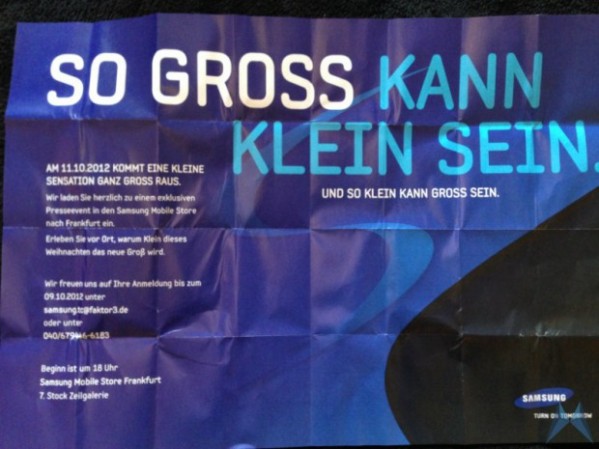 If there is one complaint about the Galaxy S3, it's that people with small hands find it too large. The 4.8 inch screen looks spectacular, but those with smaller hands might not be able to stretch their thumbs across the screen.
Fortunately, people with miniature hands might soon be able to buy a miniature Galaxy S3. According to this German poster, Samsung is holding a major press event in Germany on October 11, 2012.
The title basically states that "Something small will be really big" followed by "Get ready for a little sensation." All sexual jokes aside, it sounds like Samsung is preparing for the announcement of a cool new miniature smartphone or tablet.
The folks over at Phandroid.com claim that the announcement will be a Samsung Galaxy S3 Mini. They also suggest the specs of such a device would look like this:
-480×800 resolution
-4 inch display
-5MP camera
Other than that, details are scarce. Who knows what Samsung has up its sleeve? Stay tuned to the One Click Root blog to see what happens on October 11.