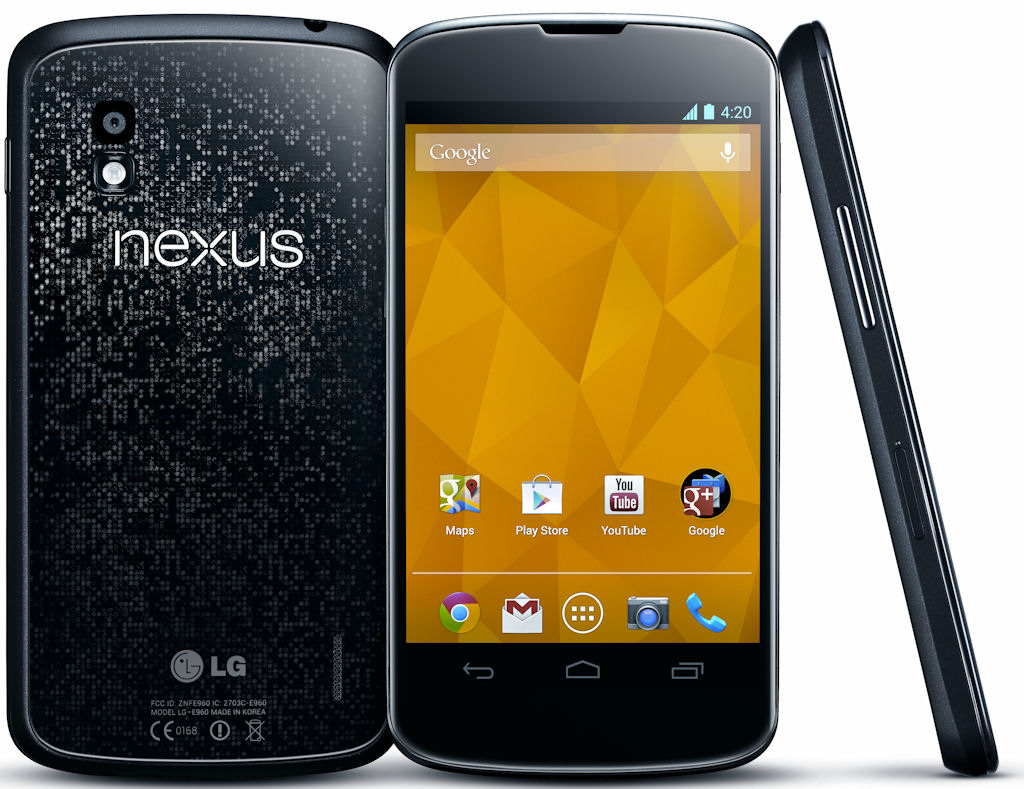 The Nexus 4 is an incredibly popular smartphone that no one owns. Google and LG messed up their supply chain somewhere along the way and now the phone is infamously difficult to obtain.
Don't believe us? Try buying one from the Google Play Store, where the store regularly tells you to expect your Nexus 4 to ship within 6 to 12 weeks, or even never if it's a particularly bad day.
With demand high and supplies low, where can you buy a Nexus 4? Here are the top three stores where you might be able to purchase a Nexus 4:
3) The Google Play Store
The Google Play Store sells music, movies, apps, and games. But it also sells Google's own Android hardware like the Nexus 4. The Nexus 4's page is built just like any Play Store page and features user reviews, tech specs, and other information about the popular device.
But when users try to order the Nexus 4, they often encounter absurdly long wait times. Or, in most cases, the Nexus 4 will simply say "Sold Out" and ask users to check back soon because "We are out of inventory." Lame!
Google doesn't announce when new Nexus 4 phones go on sale, so if you're absolutely set on buying one of these bad boys, check the store every day for new release information. They sell out quickly. Also be sure to click the 'Choose another Nexus 4' button on the bottom to see if both the 8GB and 16GB versions are sold out. The 8GB version tends to sell out much more quickly than the 16GB one, but neither last very long.
2) eBay or Craigslist
The secondhand market is a great place to find old electronics. But obviously, there's some risk involved. You'll encounter people selling the Nexus 4 at inflated prices, and then you'll find somebody selling a broken Nexus 4 while claiming it's in top condition.
But if you're lucky enough, you'll find an honest eBay or Craigslist seller who simply wants to upgrade their phone. Remember: the Nexus 4 doesn't have 4G LTE support. Some users may discover that too late, which is why they would want to sell it.
Instead of just checking your local Craigslist listings, look for the Nexus 4 in neighboring cities. If you're still reading this article at this point, you must be dedicated to buying a Nexus 4 – so don't be afraid to drive an hour down the road in order to find one.
1) Buy the Nexus 4 on-contract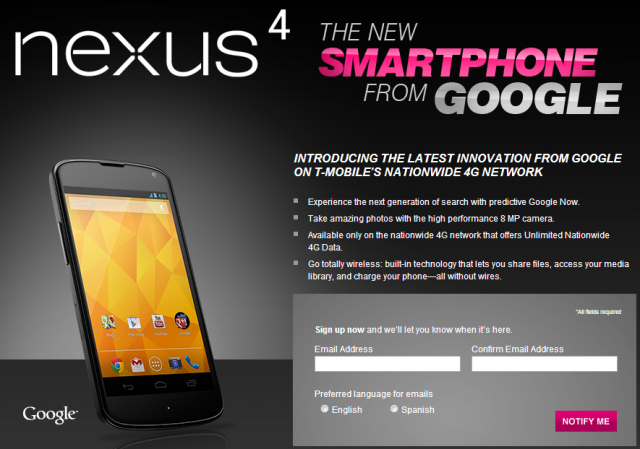 One of the biggest advantages of the Nexus 4 is its startlingly low out-of-contract price. The Nexus 4 costs just $200 to $250 without a contract – a price that many people (like iPhone users) are happily willing to pay with a contract.
So far, few carriers are able to offer the Nexus 4 on-contract. After all, they're dealing with the same supply chain problems that consumers are facing. But UK carriers seem to particularly like the Nexus 4. All of the following UK carriers offer an on-contract Nexus 4:
-O2
Three
-Virgin Mobile
O2 and Three each offer the Nexus 4 on pay-as-you-go plans, which is rare to find for a smartphone. Although the Nexus 4 costs £279 in the UK version of the Google Play Store, you can purchase it on-contract for between £10 and £31 from UK mobile carriers.
American carriers aren't as generous with their Nexus 4 contract options. T-Mobile sells the Nexus 4 for $250 with a two-year contract, although that comes with a $50 mail-in-rebate.
Other than T-Mobile's deal, it doesn't appear that any other American or Canadian carriers offer Nexus 4 contract offers. Instead, you'll have to buy the Nexus 4 and then purchase a SIM card from these carriers in order to activate your device on the network.
Unfortunately, most carriers are in a perpetual 'Sold Out' state for these phones. Buying a Nexus 4 isn't easy, but if you set your mind to it and explore all of the options listed above, you might just spot the mythical creature known as an unboxed Nexus 4.