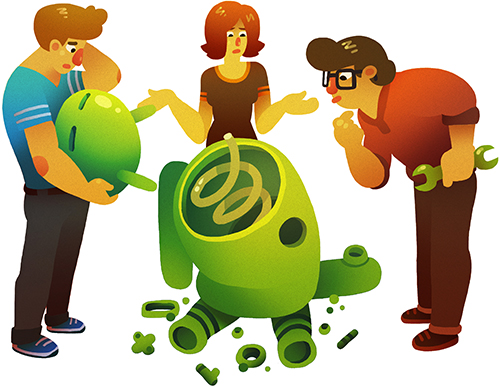 Google has been trying hard to make the Android Platform for smart phones work smoothly and provide that enriched experience to its consumers. It has been steadfastly working on improvements and has been coming out with a series of updates to each of its versions starting from the Ice Cream Sandwich days to the Jelly Bean and now to the Kit Kat versions. Users have welcomed these updates and have experienced the benefits accruing out of them.
Updates not solving problems and bringing new ones to the fore
However, after the recent release of the Android Kit Kat 4.4.4, the increasing number of updates has not met with the same success as before. Many people have reported that they are continuing to face frustrating problems with Kit Kat 4.4.4 even some weeks after its release.
It was in the first half of June that Google released the Android 4.4.3 Kit Kat, which itself was a minor upgrade to the earlier 4.4.2. This was after users had been complaining of some security fixes and other issues that needed resolution for the 4.4.2. These were sought to be addressed through 4.4.3. But just as consumers thought their issues were fixed, we started hearing new problems related to the Nexus 4, 5 and 7 gadgets for the 4.4.3 version and it was clear something more needed to be done.
Google on its part did try with the 4.4.4 Kit Kat version update. This one addressed the OpenSSL vulnerability, boosted the power profile, introduced the pause button on the gadget viewfinder itself for video recording and also improved graphics on the phone dialer. However, while these have been welcomed by consumers, they have not bargained for the host of other issues that came with this update.
Recurring issues that need resolution
They relate particularly to Nexus 5 users complaining about the poor battery life. Nexus 7 users too have reported keyboard lag while Nexus 4 users are irritated with the dialer problems. Nexus 7 users too have not it smooth going having to suffer random reboots. It must be said thought that some of the problems did surface with the 4.4.3 update itself and have persisted with the 4.4.4 as well.
The concern for Google is that issues are not restricted to only Nexus users. Other consumers using other branded gadgets and using the Android Kit Kat 4.4.4 platform have also reported facing operational glitches. Forums across complain of Wi-Fi issues, GPS connectivity interruptions, freezing of the screen and email sync difficulties. Moto G consumers too have reported similar irritants. Sony Xperia customers complain of battery and camera problems.
What next for Kit Kat 4.4.4 users?
At the moment, users are circumventing the problems by booting in safe mode and some are able to at least identify specific issues. Those can then be resolved through a factory reset or other temporary fixes. But they cannot be considered as permanent solutions and it appears that for the moment Kit Kat 4.4.4 users will have to bear these problems for some more weeks at least.