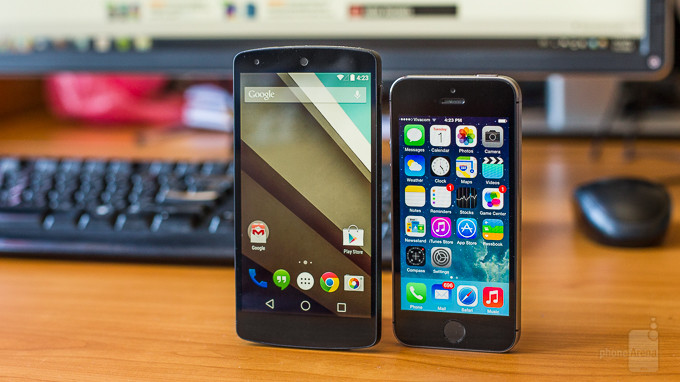 Google after its launch of the Android platform has been competing with both Apple and Microsoft in the rapidly expanding smart phone market. As of now, it is on a winning streak, garnering more than 80% of the market with its conventional and forked Android platforms adorning a whole range of handsets across the world.
It is therefore not surprising to find it overtaking the Apple iOS even in data usage. Yes, even after all the hype and buzz for iOS 8, it has been found that Android data usage is much more than iOS data usage. Since this data has been collated after looking at over 150 million visits per month, there is a lot of authenticity to it and may be suggesting a pattern for the future as well.
What Does This Mean For Apple Then?
More than the fact that Android data usage was up to 44.62% in July, it is the drop in iOS data usage that must be of concern to Apple. The report from Net Applications has taken usage of data from both smart phones and tablets and also ties in with the other report of iPad sales dipping of late.
Traffic on the web and their details can throw up interesting facts. It indicates the penetration different operating platforms have been able to achieve or how users perceive each operating system. The performance of Apple has remained more or less stable but that of Android has been going up month on month and has finally overtaken the Apple iOS.
iOS is Lucrative For Apple
The iOS is still a cash cow for Apple and has enabled it to post double digit growth on a consistent basis, year after year. The trends in data usage and the shifting of user preferences either due to lack of interest or due to a perception of better engagement on an alternative platform like Android are warning signals for Apple.
The company will be hoping that these data points do not influence some of the developers to shift their allegiance to the Android platform. The possibility that may happen cannot be ruled out due to the sheer numbers and volume favoring Android. Apple has to quickly ensure developer interest is retained in it so that it is not relegated to being a second-tier operating platform.
Release of iOS 8 and Android L
This data would not have seemed as disconcerting to Apple if Google had not also announced the launch of Android L. Apple may have banked on the release of its own iOS 8 to sustain user interest and may have hoped to retain its position in data usage. But with so much being written about Android L and its features, it would appear Apple is in for a tough fight in the months to come.