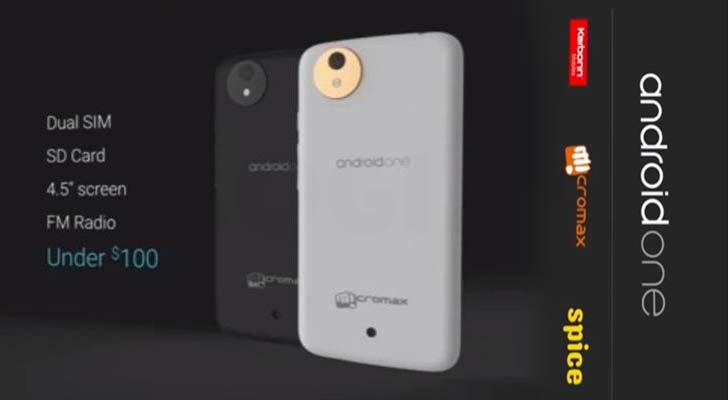 Those of you in India looking forward to the release or introduction of Android One handsets are in for a disappointment. The earlier expectations of them being available for below $100 may not fructify. Indian manufacturers like Spice, Karbonn and Micromax are all ready to price these handsets at much over $100(between Rs.7000-10,000).
The Google Android One Project
Readers would recollect that the Android One project of Google was conceptualized to provide users with a smart phone experience associated with mid range to high end gadgets. Google wanted to test the huge market in India before launching it across other emerging markets.
Google depends a lot on the success of this project as that would enable it to bring in many more users into the Android platform. It knows that price sensitivity in emerging markets would impact sales of smart phones and that is why it came out with this project and wanted to make phones available to the masses. They could then experience smart phone usage at an affordable price and that would be great news for Google struggling to add significant numbers to its Android platform in other developed markets.
Neither Google nor any of the Indian manufacturers have responded to queries on emails or have commented on this development. However, there is news that one of the reasons for the enhanced selling price was the addition of better apps and features from Google.
Android One Setting Minimum Standards
The purpose of the Android One project apart from bringing in more number of users to the platform is also to set minimum standards from the hardware as well as software perspective for the 3 vendors in India. It would be incumbent on them to follow these standards and bring about enhancements as required by the market later on for future gadgets.
The Indian smart phone market is a growing one and has seen exponential surge in growth over the last 2 years. Google has left the pricing decision to the 3 vendors as they have to fight it out in this competitive market to survive. They would have to open up market segments and penetrate them if they have to meet the demand of more than 80 million gadgets in the months to come.
Google Providing Technical Assistance
On its part, Google is hand holding these vendors by ensuring product quality and providing guidance on components compatibility. They would also have to work with other design manufacturers well entrenched in China to source components cheaply so that they can offer products at an affordable price point.
Google had in the month of June announced that its tie up with the 3 mentioned vendors in India would lead to the launch of AndroidOne handsets in September. It had also talked about working with Indian data carriers to offer bundled data pack solutions. Another attractive proposition in store for buyers of these Android One phones is the up gradation from Kit Kat to Android L. The screen sizes too would be in tune with the market demand.