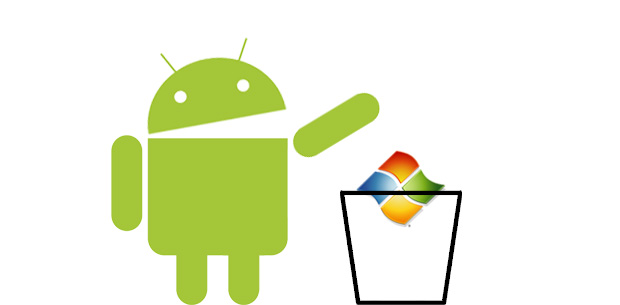 The Windows Embedded system that operates the multitude of handheld devices, scanners at retail chains is in danger of getting phased out. Until now, these handheld devices helped delivery staff, hospital staff, clerks at various outlets to manage their inventory, to verify deliveries and process orders.
But now, as this Windows and Android collaboration comes to an end, all these will move to the Android OS and this represents one of the major shift of platforms in the industry for a long time.
So why is the industry keen to dump Windows Embedded?
The current version of Windows Embedded CE is 6. This made its debut in 2006 and is used by more than 95% of the devices. This means that the industry did not move to the later versions of 7 and 8 in the years 2011 and 2012 respectively. Versions after 6 do not support or are not compatible with each other and the Windows Embedded 8 in particular does not go well with the variety of screen sizes that are on display right now.
Microsoft would not be extending support for the Windows Embedded version 6 from 2017. It would also not be supporting the version 7 from 2020. Since developers would have to come out with new apps for the new OS that would have to come into play, the industry is looking at Android as the preferred OS for migration.
Transition shifts to a new OS is a costly proposition
The case of Home Depot that had planned to migrate 28 of its apps to a new OS and had to spend time and money for nothing is enough motivation for industry to look at an alternate OS as quickly as possible. Home Depot migrated to the Windows Embedded 8 version that never took place and Microsoft could not keep up to its commitment of delivering OS. Home Depot had to move on to Android and they did not wait for any of the later versions of Windows Embedded.
The attraction of Android for developers of devices lies in the AOSP or the Android Open Source Project. This part of the OS comes without the GMS or Google Mobility Services. Readers will be aware that Google makes its money out of the Android OS through apps like Gmail, Google Now, Chrome and Google Drive to name a few.
The large base of developers who are now tuned to working for Android since many years is another attraction. Many of the developers know what it is to write for Android but may not be able to do a good job writing for the Windows 8 or10 versions.
Modification of the AOSP is another incentive
The fact that developers can also make modifications to the OS to put in additional capabilities or restrictions that are not supported within the core OS is a strong incentive. The AOSP is seen by the industry as a better bet than the Windows Embedded versions. It will also help Google to funnel in users to make use of its data-oriented services and is therefore a win-win for both the industry and Google.