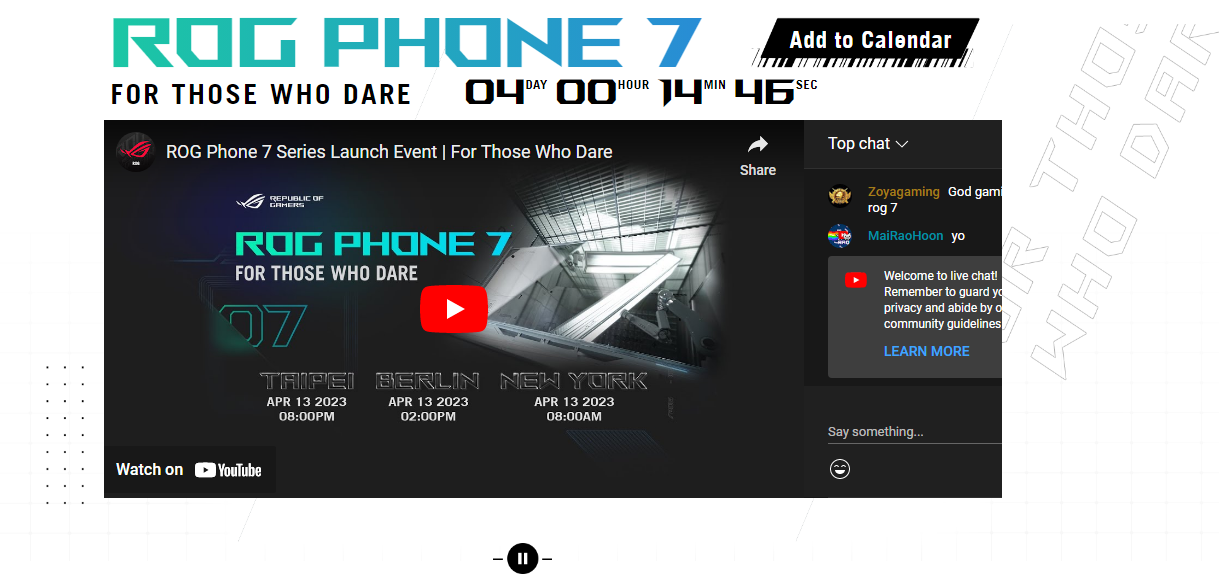 Asus's newest gaming powerhouse is almost here! But is it coming in with a bang?
Like you, we've been counting down the days to the official ROG Phone 7 launch date. And now that it's finally right around the corner, we wanted to put everything you've been dying to know about the latest Republic of Gamers beast in one place.
What's the official ROG Phone 7 release date?
Much like with its previous installment, Asus isn't placing just one new ROG model on the market. The 7th series is launching two editions onto the global market, the ROG Phone 7 and ROG Phone 7 Pro, and all of this is happening on April 13.
It's expected that they'll follow the path of series 6 and add a 7D and an Ultimate variation as well.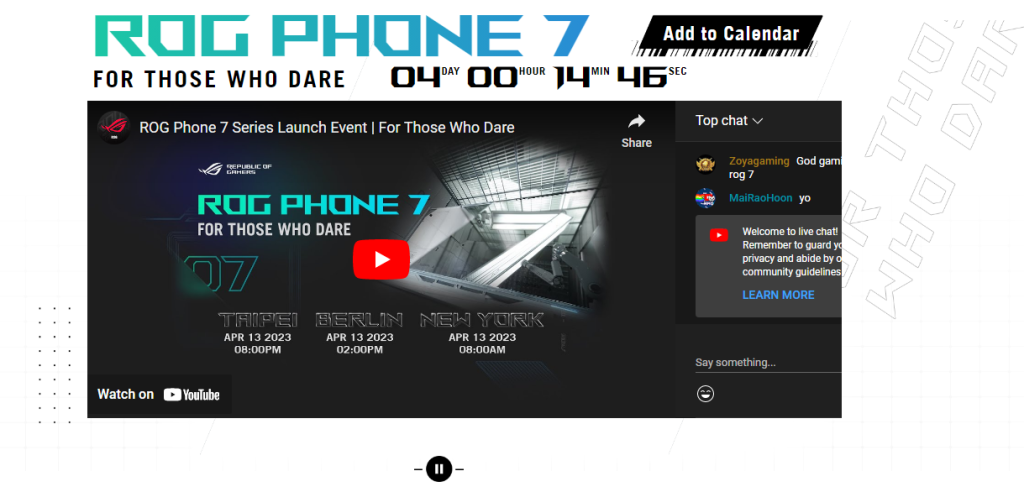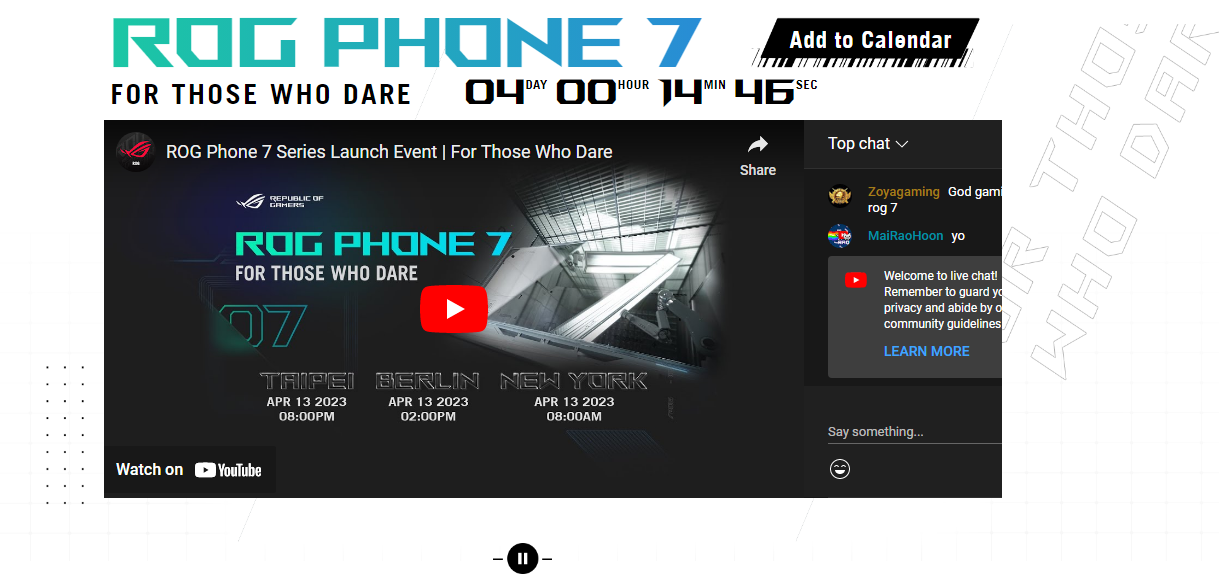 What does the latest ROG Phone look like?
One thing that you can absolutely count on is that Asus will not miss the mark when it comes to design. This is apparent in the pictures of the upcoming device that surfaced on leaker Evan Blass's Twitter, @evleaks. It's clear that Asus decided to stick with what's tried and true in terms of appearance for this series.
Just like before, the ROG series flaunts a robust but slick backside with RGB lighting. Not that a powerful gaming phone necessarily has to always keep up the typical gamer aesthetic, but don't you just love to see it? This will likely continue with all future models, and we definitely can't complain.
Generally speaking, ROG Phone 7 doesn't look very different from the 6 series. It also looks like series 7 will be available in the same Storm White and Phantom Black colorways. So if a prominent redesign is a big factor for you in regard to phone upgrades, we're sorry to disappoint. 
The leaks of the new lineup reveal that the ROG Phone 7 keeps the 6.78-inch AMOLED display with a 165Hz refresh rate. The headphone jack isn't going anywhere either and there should be two USB-C ports, as well as a protective case. It also seems that the Pro version will have a display on the back.
Finally, the appearance isn't the only cool thing about the phone – so is the inevitable AeroActive Cooler accessory for optimal temperature control.
ROG Phone 7 & 7 Pro specs
Even if you particularly care about a device's appearance, we can all agree that performance is actually the critical factor. So, let's take a look at the specifications we're expecting to see on April 13.
The phones will be running Android 13 right out-of-the-box and they'll be powered by a Snapdragon 8 Gen 2 chipset. Information on the RAM is still a bit vague, but some leaks have suggested that the Pro version could provide up to 18GB RAM and the regular version up to 16GB. Even the storage space is unconfirmed; rumor has it that it should be between 256 and 512GB.
The rear triple camera system should consist of a 50MP primary camera supported by a 13MP unit and 5MP lense, while the selfie camera is expected to be 32MP. For a phone focused mainly on an immersive gaming experience, this is a pretty nice camera setup. 
You can definitely expect fast charging on both versions, as the battery capacity is said to be at a total of 6,000mAh and the charger to reach 65W.
ROG Phone series 7 VS series 6
Let's be real – it's not enough to add a couple of neat little features to get people to buy the newest device on the market. Yes, new is (generally) always better. But the decision of whether or not to upgrade really is on a case-by-case basis.
So, what about the case of the 7th Republic of Gamers series? Is it really worth it or have we all been breathlessly anticipating for nothing? Let's take what we know so far and compare it to the previous lineup. 
We already know that the appearance remains nearly identical to the 6 series. The same goes for the rear cameras and battery capacity.
What's different is the platform it runs on. Compared to the previous Snapdragon 8 Plus Gen 1, the new Snapdragon 8 Gen 2 provides a slightly better overall performance. The battery consumption is a bit less efficient, though. 
Gen 2 beats the ROG Phone 6D's Mediatek Dimensity 9000+ chipset in terms of performance as well.
ROG Phone 7 also comes on strong with a front camera 20MP more powerful than its predecessor's, so that's quite neat.
As for the memory aspect, sadly there isn't much improvement. The strongest variant of the previous series, ROG Phone 6 Pro, provided 512 GB storage and 18 GB RAM. That's the most we can expect of series 7 as well.
What's the ROG Phone 7 series price range?
The cost of Asus' 2023 gaming phone won't be unveiled until the actual launch. We can only speculate that the prices will roughly follow the pattern of the previous releases. We expect the starting price to be around $1,000 for ROG Phone 7 and around $1,500 for the Pro version.
The bottom line
Even with the release date being in just a couple of days, we still don't know much about the ROG Phone 7 series for sure. All we have are leaks and, based on them, right now it seems we should lower our expectations. A better selfie camera and slightly stronger chipset are hardly cause for excitement.
Nevertheless, Asus might still surprise us. There's no way to know for certain until the launch event, and we can't wait to finally see it.