We all know that Android is the world's best mobile operating system.
But Android obviously isn't perfect. It has some serious flaws – including the messiness of the Google Play Store and, more seriously, fragmentation.
A research company called OpenSignal recently produced the image you see at the top of this article. That image separates the entire Android market into squares. Larger squares have more users while smaller squares are more obscure devices.
It's no secret that Android is fragmented: but it's scary how fragmented Android actually is.
Here are some important statistics to get from the latest OpenSignal report:
-Last year, OpenSignal reported that there were 11,868 different Android devices. This year, that number grew to 18,796, which is an increase of 60%
-In 2012, there were "just" 3,997 different Android devices
-The Samsung Galaxy S3, S4, and S5 all carry heavy market share, followed closely by the Nexus 5 and Moto G
-Chinese manufacturers are slowly taking over the Android market, as Huawei, ZTE, and Lenovo all occupy huge segments of the picture above
Of course, the picture above doesn't technically represent Android fragmentation: it just shows how many different Android devices are out there. That's not necessarily a bad thing – unless they're all running different operating systems.
That's why OpenSignal also produced the chart listed below: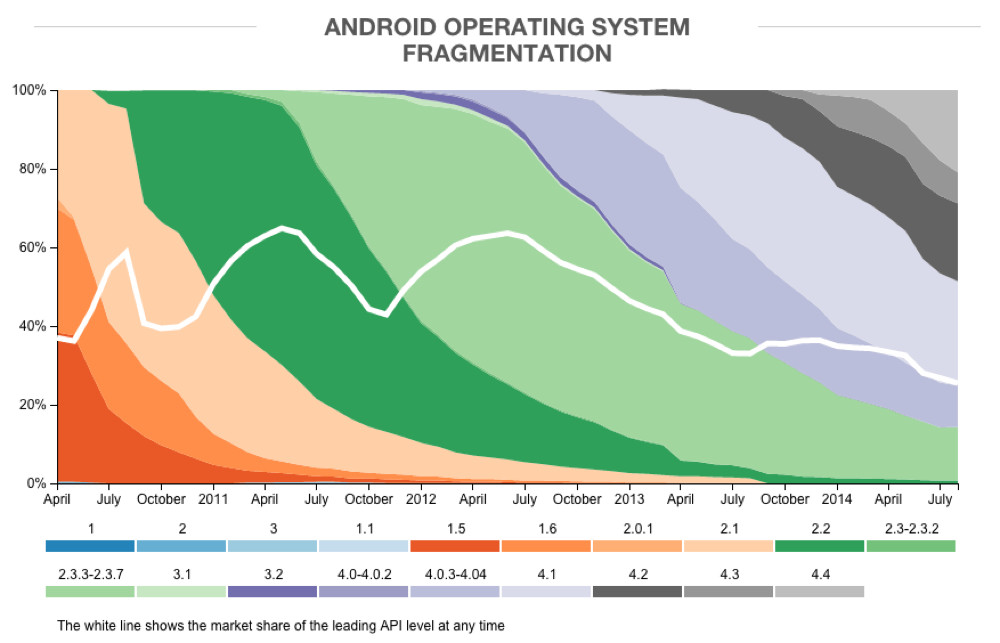 This nifty chart lets us see the rise and fall of operating systems in real time. Today, the vast majority of the Android market uses Android 4.0 and higher – which is good for fighting against fragmentation.
However, brand fragmentation, Android fragmentation, and device fragmentation all remain serious threats to Android.
Android users fight back
For whatever reason, Android users can be a bit insecure about their favorite mobile operating system.
Don't believe me? Walk up to the next Android user you see and tell them Android is for poor people.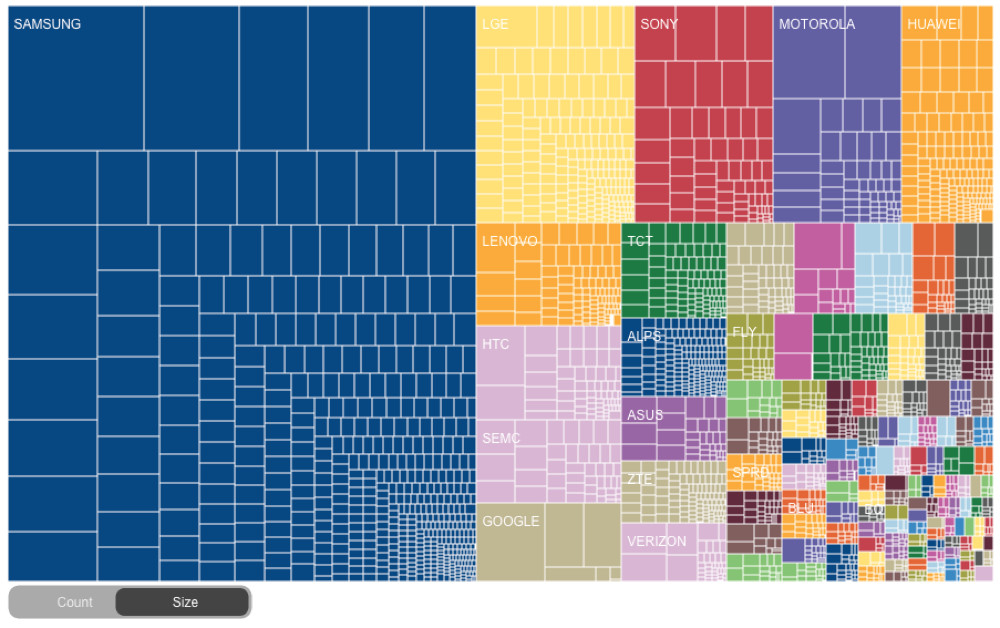 Anyways, this OpenSignal report has come under criticism from certain members of the Android community. Droid-Life.com, for example, ends their article by saying:
"Finally – piss off, OpenSignal, for calling this a "fragmentation" report."
Obviously, they're mad at OpenSignal for confusing the number of different Android devices with Android fragmentation. I get it. The wording is deliberately vague.
Unfortunately for Android users, fragmentation can refer to a few different things – including OS fragmentation, brand fragmentation, and device fragmentation. And like it or not, Android users, fragmentation is the most serious problem facing Android today.