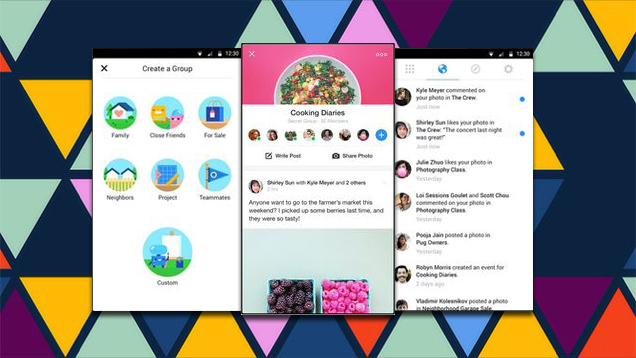 Face book has had its Groups feature for some time now and it is a popular one amongst users. It is now launching a mobile app for the Android and iOS platforms which will be free and which will enable users to interact with other communities based on their hobbies on its site.
Facebook Groups – An Overview
With an excess of 700 million users using Groups on FB, there is no doubt it is a happening place on the site. People are members of various groups ranging from art to culture to religion and are able to share their thoughts very easily with like-minded users across the globe.
The new application will make it all the more easier for users and they need not go through the Face book app to access groups now. You can manage or create new ones by following recommendations or through the search option. Users can also have a short cut icon on their home screen of their favorite group for quicker access. Face book believes that just like its messaging app, this one will enable users to enjoy their Groups interactions faster and better.
Facebook's Differential Success With Apps
The social media giant has been working hard to stamp its presence on smart phone devices through the development of different apps for some time now. However, not all of its apps have been successful attempts. The Messenger and Instagram have been hugely successful and their recent acquisition of WhatsApp looks promising as well. But their Paper app, which is the app for news reading on the mobile, has not been a success. Similarly, the launch of Slingshot, supposed to rival Snapchat has not caught on either.
Messenger has users numbering more than 500 million but not all users can be said to have started using it voluntarily. They had to mandatorily download it since Face book did away with the messaging utility on its main app. Fortunately, though, the new app is a standalone one and users would be able to access Groups directly through it.
Groups App Offers More
This app can be downloaded from the Google Play or the Apple App Store. The app offers more functionalities than what users are used to till now. Users can move between groups while managing notifications and also be able to seek more content. Frequent users on various groups will find interactions faster.
The Discover tab for instance puts forth suggestions of groups for users to join. These suggestions are based on the Pages liked by the users or based on the location and thus presents opportunities for users on a platter. Till now, Face book has not brought about many changes to the Groups feature. They have now been updating with new features and analysts perceived this lack of action as a missed opportunity for Face book. The launch of this new app for mobiles indicates that Face book is keen to test out the growing smart phone market before making it available for the desktop.