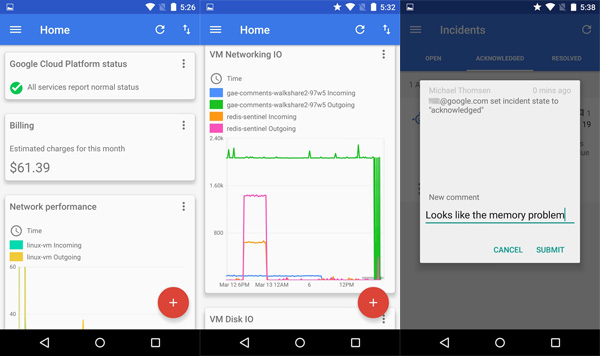 The announcement has been greeted with great delight by server administrators. Google is now making Google Cloud Console available for both Android and the iOS. This mobile app that helps server administrators monitor and manage infrastructure that are running on Google Cloud will surely make things easier for them.
Readers will recall that Google had earlier come out with a beta version for Android only earlier this year. It had indicated then it would launch one for the iOS soon and has kept its promise.
Greater flexibility and control for developers
Developers would now be able to manage projects that run on the Google Cloud from their Android or iOS devices. Checking parameters relating to the performance of the Google App engine and other resources or even creating customized dashboards for project overviews become very easy now. They are able to even take quick actions through their mobile device and can for example stop virtual machines from running if need be.
Users on the other hand can now look forward to customizing the dashboard to sort out their needs for information on performance metrics, billing, account monitoring and so on.
Administrators have been clamoring for more functionality
Administrators for some time now have wanted better functionality within the Google Cloud. They got enthused with the acquisition of Stack Driver by Google last year and since then have been expecting break through announcements in the field of cloud infrastructure management.
They were not too happy when the platform got affected for close to an hour due to the failure of the Google Compute engine earlier this year. That happened due to some patch update not functioning as expected in real time app environment. Consequently, they would have given up hopes of any new announcements from Google regarding the Google Cloud. Seem against that background, this announcement is a welcome one and it is no wonder developers are very happy.
Caution needs to be exercised though
Having mentioned the above positive development, it is still advisable not to go all out before taking sufficient precautions of taking necessary backups. These are new apps and you do not want to risk losing data. Windows owners will have to wait though for now as Google has not come out with an app compatible to that system yet for managing infrastructure on the Cloud Platform.
It cannot be doubted though that this app is going to be perfect for responding quickly to cloud instances and ensure optimum network utilization. The fact it is going to be on both the iOS and Android gives it a unique edge. After all, Google and Apple have a huge market share and those entrusted with the task of managing such infrastructure will always want something that they can rely on to do their job correctly. When it comes to public cloud, Amazon is a major competitor for Google and it had come out with the AWS Console to help it manage its infrastructure.