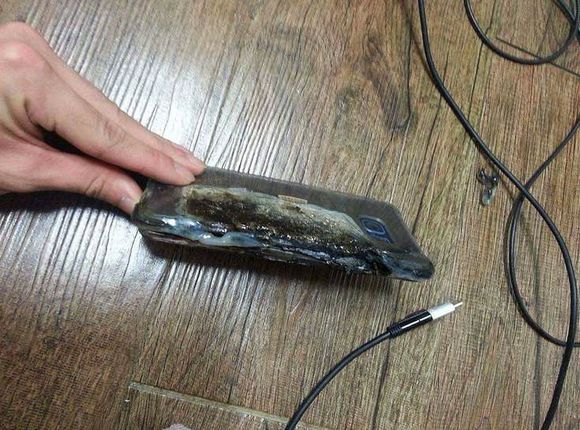 Samsung has announced plans to issue a software update to fix the overheating problem in its Galaxy Note 7 units.
The software update will limit battery recharges to under 60%, preventing overheating but also severely diminishing your battery life.
The news was announced on the front page of the Seoul Shinmun, one of South Korea's best-known daily newspapers. Samsung is targeting the software update at any Note 7 users who are disregarding the recall notice and are continuing to use the smartphone.
"It is a measure to put consumer safety first but we apologize for causing inconvenience."
The update will begin rolling out to South Korean users at 2am on September 20.
It's not yet known when the update will roll out oversees. However, South Korean news agency Yonhap reports that Samsung is currently speaking with mobile carriers to carry out the same update plan.
2.5 Million Samsung Note 7 Units Recalled After Manufacturing Glitch in the Batteries
A small number of Note 7 users have experienced problems related to an overheated battery. These users woke up to charred, burnt phones. Although the "manufacturing glitch", according to Samsung, only affects a small number of users, Samsung issued a global recall of all 2.5 million Note 7 units.
At the time of the recall, 35 overheated Note 7 cases had been confirmed worldwide.
After announcing the recall, Samsung urged consumers to immediately turn off their phones and get them replaced with a new Note 7.
That's easier said than done: many Note 7 users have ignored the recall. It's a bit of a challenge and an annoyance to get your new Note 7. You need to visit Samsung service centers or retailers twice: once to get a replacement phone (not a Note 7) and have a safety check on their existing Note 7, and a second time to get a new Note 7.
Samsung "Has to Contain the Battery Explosions But People Are Not Returning the Phone"
Industry analysts claim this software update is a "desperate measure". Samsung knows that some of its phones have a chance to overheat and cause serious problems, but people aren't returning the phones.
Obviously, taking a 40% cut in battery life is a significant downgrade.
Meanwhile, the Note 7 recall is such a big deal that aviation regulators and airlines have labeled the Note 7 as a flight hazard.
How This Affects You
South Korean Note 7 users will get the battery life reduction update on September 20th at 2am.
All other Note 7 users will get the update at a future date – it's not known when.
You can either choose to wait for the update that will limit battery life to 60% capacity – or you can visit a Samsung service center/phone retail outlet to submit your phone for a recall.