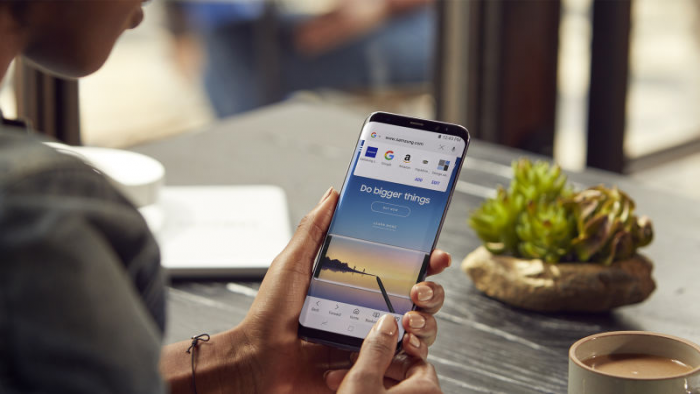 Samsung now has a big advantage over Google's own Chrome browser as it brings its smartphone browser to all Android phones – the ones which are running Android 5.0 and up. Samsung's new Internet app showcases an ad tracking blocker built into the app to keep websites from monitoring your every internet activity and in turn giving you a much needed privacy.
Here are some reasons why you should consider switching your primary Android internet browser to Samsung's new app especially if you're one of the users who value their privacy so much.
What exactly does Tracking Blockers do? And why it is important?
We all know that most websites get their profit by delivering users targeted ads. To get those targeted ads, big companies and even small websites track your ever online move so that it can gather your information and process them to create targeted ads some websites even use the information for malicious purposes. Thus, your information is pretty much at risk whenever you visit websites that tracks your browsing. This has become an itch on many users' for quite a while now as they don't want anyone to track their activities online silently. To remedy this, Samsung has come up with an Internet browser app which contains built-in blockers. These tracking blockers prevent any invisible trackers from monitoring you so you get to keep your personal information safe.
This matter has actually become a controversial subject in some groups just like when Apple updated its Safari browser to limit any online tracking – this actually has sparked some backlash from digital advertising and marketing companies as it will obviously affect them. Apple has countered that ad tracking has become too widespread for many users' liking and it has become a threat to users' privacy. That much is true.
On the other hand, Google is quite different as it has a blotchy record when it comes to ad tracking most probably because it makes tons of money from these online ads. If you look closely, you will notice that you can't completely turn off tracking unless you switch to a full Incognito mode. A recent study made also showed that the ad trackers go around Google Chrome extensions created to block them fairly easily.
Tracker blocking is enabled by default in Secret Mode with the new Samsung Internet browser. Aside from that, you can also switch it on a regular browsing from that app's settings if really want to keep all your online activity hidden from trackers all the time.
So what are the other features of Samsung Internet?
Besides tracker blocking, Samsung Internet also supports ad blockers and it also sports a special menu which allows you to manage all your browser extensions in one place. It has a Night Mode feature that has a dark theme and reduced light you can use for when you are browsing the internet while in bed as well as a High Contrast Mode adorned with a dark background and bright text making it easier for you to read.
You can also sync your bookmarks with the Samsung Internet app if you are using Google Chrome on your desktop computer. Finally, some backend improvements were also added by Samsung to keep the app running smoothly. Even though these are only minor features, its main feature – tracking blocker – might be enough to win you over. And unless Google does something about it and introduce some similar feature to its very own Chrome, then they might find some of their users switching from Google Chrome to the Samsung's Android browser.