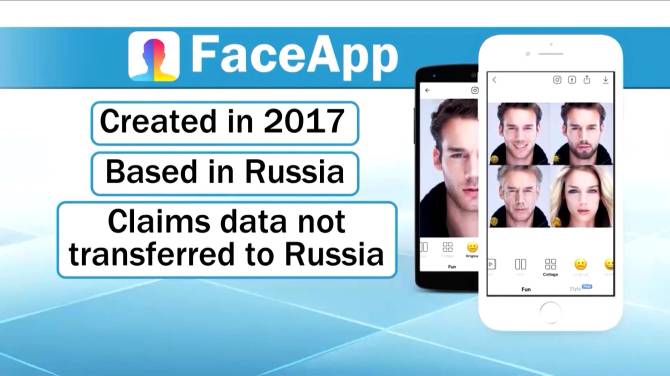 Has your Facebook News Feed been flooded by old faces recently? It's not that people are overly stressed, it's the new app called FaceApp that transforms people's faces to old, girl, make them smile, and more.
The FaceApp's popularity exploded last week and along with it, some privacy concerns. With that, Senator Chuck Schumer desire to look into the app and wants the Federal Bureau of Investigation (FBI) and Federal Trade Commission (FTC) to investigate the app.
Senator Schumer first concern is, in fact, about the Russian government potentially accessing uploaded personal data. Another concern is about how and when the company provides access to the data of U.S. citizens to third parties, including foreign governments.
The Democratic National Committee (DNC) echoed Senator Schumer's concerns, albeit in a more pointed manner, noting:
"This app allows users to perform different transformations on photos of people, such as aging the person in the picture. Unfortunately, this novelty is not without risk: FaceApp was developed by Russians."
DNC Chief Security Officer Bob Lord said the DNC has "significant concerns about the app (as do other security experts) having access to your photos, or even simply uploading a selfie." Thus, the officer recommended anyone officially in the Democratic Party to delete the app.
Some people argued that Senator Schumer and the DNC is just overreacting over an app built for fun. Apparently, the US government has a reason to overreact. The DNC is particularly sensitive with this kind of issue since its computer network has been attacked way back 2015 and 2016, which resulted in a major data breach. During the investigation, cybersecurity experts and the US government believe that the attack was the work of Russian intelligence agencies.
What's really happening on FaceApp?
FaceApp seems harmless enough by being just an app that automatically generates unrealistic transformations of faces to make them look younger, look older, change gender, and even smile.
Recently, some people raised the following concerns regarding the app:
FaceApp is developed by Russian company Wireless Lab.

FaceApp doesn't locally process pictures and, instead, uploads them to the cloud.

The iOS app lets you select and upload a photo, even though you might deny the app access to your camera roll.
The third concern isn't a major problem since iOS too allows such behavior. As such, you can block the app from accessing your phone's camera, but you can still select individual photos from your gallery. This permission confuses a lot of users, but there's actually a security difference between accessing the gallery and the camera app.
As for the first two concerns, FaceApp stressed that it doesn't transfer images other than those you select for editing. It also said it doesn't share or sell user data to third parties or to Russia (because who would admit such a thing?).
FaceApp also highlighted that it uses AWS and Google Cloud for storage and cloud processing and deletes the images from its servers within 48 hours from the time they were uploaded.
As of today, FaceApp has over 100-million downloads from the Google Play Store.