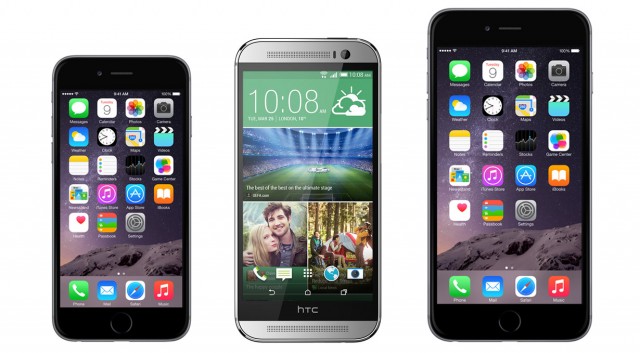 There is no getting away from the fact that the robust sales of iPhone 6 and 6 Plus has made Android loyalists have a rethink about why they should stick to this OS. At the same time, upon a closer look and some analysis, they have found there has been a lot of hype about nothing in particular from the latest Apple offering. They have found that some of the touted features have always been available on the Android OS and some that are also unique to Android for a number of years now and they do not have to fret about the iPhone 6 too much.
Let us look at those features in some detail then.
a) Bigger screen – Apple fans are relieved about the 4.7 inch screen on the iPhone 6 as well as the 5 inches on the 6 Plus. But Android phones have been having similar and bigger screens now for a long time and this feature is not unique in any way.
b) Removable battery – Many Android phones have a back panel that can be removed so that you can detach the battery. The facility can be useful when the phone is dead and you have to use your phone with a new one. The iPhone 6 on the other hand cannot be tampered with and you have to take the help of technicians to do the needful.
c) Additional features – Some of the Android OEMs have introduced their own and proprietary software to complement stock Android. This provides additional features to the user who can run different apps and features, customize the look of their phones and have a better experience altogether. That has been possible thanks to the Open Source Android Project of Google.
d) NFC or Near Field Communication – This chip has been installed in Android phones now for some time now, facilitating quick transfer of data from one device to the other, provided the latter is in proximity. It will also help in making mobile payments, though the Apple system works better for the moment and Google has to do some refining of their system.
e) Android phones have always had third party keyboard support built into its ecosystem. Now that Apple has come out with one in its iPhone 6, there is suddenly a lot of attention showered on it.
f) Similarly, the camera feature of optical image stabilization has been around on Android phones and is not a novel one introduced by Apple. Even here, only the bigger screen iPhone 6 Plus has this feature while the smaller one has to rely on digital image stabilization.
A look at the above features more than substantiates the fact that Android phones have been at the forefront of introducing user friendly features for quite some time now and need not feel threatened by Apple. The new OS – the Android L promises to make the user experience even better and that is something Android loyalists will look forward to.