For years, carriers have been heavily promoting iPhones. iPhones were popular, hip, and easy-to-sell.
They also made carriers – and Apple – billions of dollars.
Now, things may have changed. While Apple remains popular in the United States, a recent study suggests that the iPhone's popularity is waning in a key demographic: carrier salespeople.
Carrier salespeople are now recommending more Androids than iPhones. According to new research conducted by Kantar Worldpanel, carrier salespeople in the United States are more likely to recommend a Samsung device over the Apple iPhone.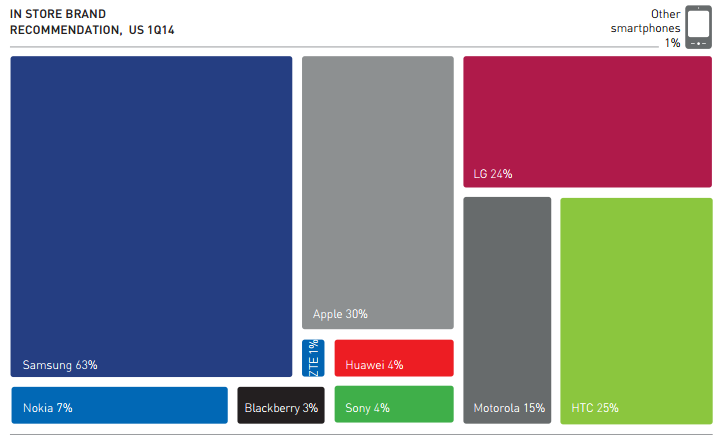 Here's how the study broke things down:
-During the first quarter of 2014, 63% of customers who purchased a smartphone through a carrier were recommended a Samsung device
-During the same period, the iPhone received less than half as many recommendations (30%), while Nokia's Windows Phone devices received a tenth as many recommendations (7%)
-59% of customers purchased a Samsung device after hearing the recommendation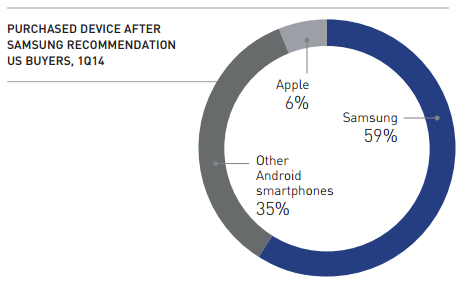 -HTC and LG were in third and fourth place, respectively, attracting 25% and 24% of smartphone recommendations
Of course, cynics will say that Samsung offers a greater number of devices for a wider range of users (which is correct). But that different can't totally explain why Samsung recommendations are outpacing Apple at a nearly two to one rate.
Apple fans argue that the iPhone is one phone competing against a hundred Android-based competitors. But with Samsung doubling Apple's recommendation rate and LG, HTC, and even Motorola capturing some market share, it's clear to see that the iPhone isn't the carrier darling that it used to be.
You can read the full Kantar report at this PDF file.