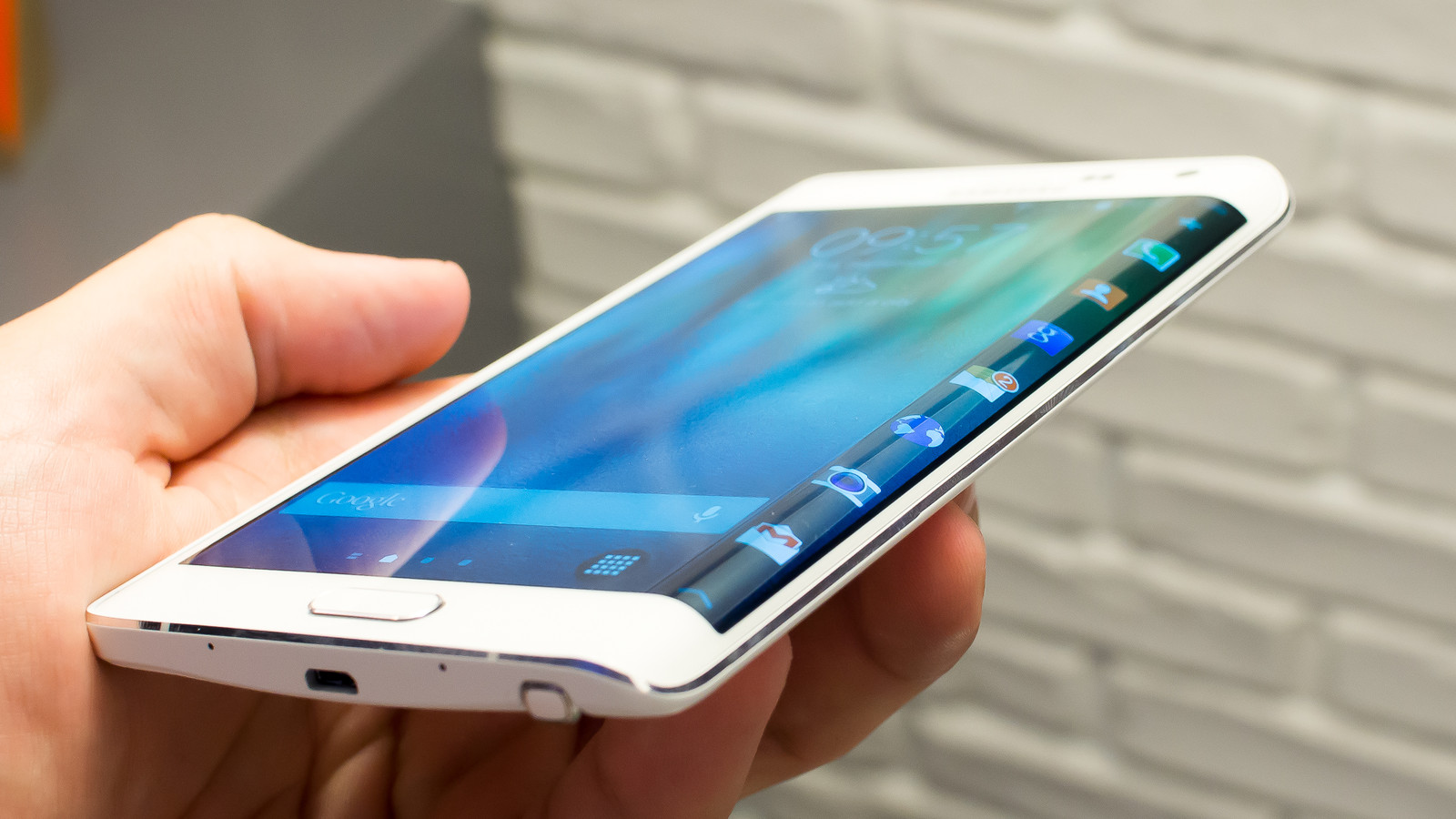 At Berlin's IFA 2014 event, Samsung revealed a smartphone everybody expected them to reveal: the Galaxy Note 4.
Unbeknownst to most members of the media, however, was the fact that the Galaxy Note brought along a friend called the Galaxy Note Edge.
This new smartphone features a small curve to the right of the screen. This curve extends the display past the face of the screen and onto the right-hand side.
It's a nifty little feature that may or may not be a gimmick. In any case, the Note 4 features a number of unique features that separate itself from its big brother, the Note 4:
What's with the edged screen?
The Galaxy Note Edge features an edged screen. What's the point of this screen? Is there a point to this screen?
Basically, the edge will display your "quick menu" which is traditionally displayed at the bottom of the screen. In a tech demo, we saw the edge featuring app shortcut icons for the contact book, dialer, messenger, internet browser, camera, app drawer, and Google Music.
It also appears that you'll be able to scroll down the edge to find more shortcuts.
Samsung software separates "the edge" and "the main display" into two separate units. The edge can be used as a notification ticker or as a quick-launch taskbar. There are also a number of widgets available that will display valuable information – like tweets – along your edge.
One cool feature is that the edge can turn into your alarm clock at night. The edge stays illuminated with the current time.
The edge is always on. But it also lets you see valuable information without activating the primary display – which should ultimately save you battery life.
The edge is a totally new concept that has not yet been fully formed. Once app developers get their hands on it, we're sure to see some new creative uses for it.
Okay, how about the specs?
The Galaxy Note Edge features nearly identical specs to the Note 4. The only real "noticeable" difference is the screen, which is .1 inch smaller than the Note 4 (5.7 inches versus 5.6 inches).
Other than that, the two devices are nearly identical:
-5.7 inch QuadHD Super AMOLED screen
-2.7GHz Snapdragon 805 quad-core CPU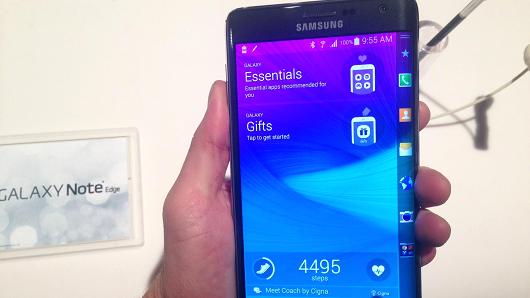 -2560×1440 screen resolution
-3GB RAM
-32GB/64GB internal storage
-MicroSD slot
-IR LED, Bluetooth 4.1, USB 2.0, MHL 3.0 GPS, GLONASS Baidu, 2.5G, 3G and 4G Cat 4, 4G Cat 6
-16MP rear camera and 3.7MP front camera
-3000mAh battery
-Android 4.4.4 KitKat
It's one of the most unique phones we've seen in years
Like it or not, innovation has dried up in the smartphone world. Features like "heart rate sensors" and "fingerprint sensors" and "improved performance" are all that separates this year's smartphones from last year's smartphones.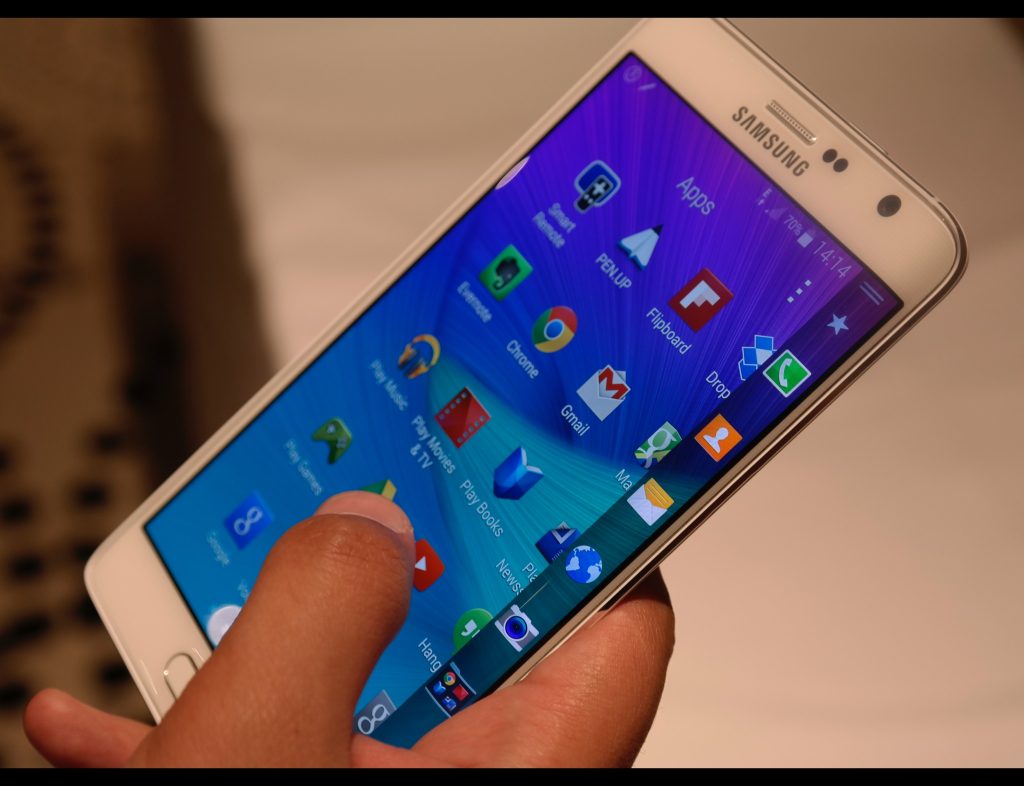 Almost every smartphone released over the past 3 years has featured the same basic design: a large touchscreen with smaller and smaller bezels and a button-free (or nearly button-free) design.
The Galaxy Note Edge changes that by adding a simple edge. It's not a massive change, but it's one that will be instantly noticeable every time you take out your phone.
It will be available on all major US carriers
The Galaxy Note Edge is coming in October 2014 and will be available on all major US carriers, including AT&T, Verizon, T-Mobile, and Sprint.
Will Samsung's unique curved feature pay off? Will consumers see it as a gimmick or a cool new feature?
We can't answer those questions yet. But I will say this: the Note Edge is one of the coolest, most unique, and best-looking smartphones we've seen in years.
If you're looking for a smartphone with the power and display of a Note alongside a cool new feature, then the Note Edge may be your next smartphone.