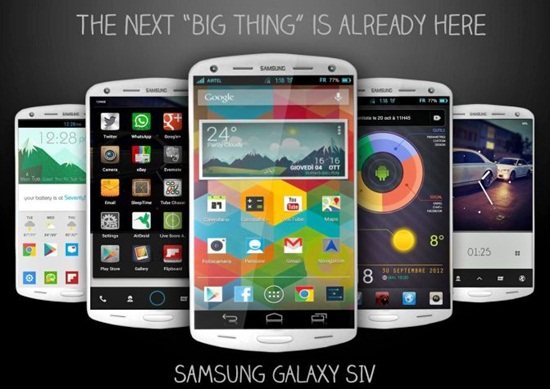 All rumors and feverish speculations were put to rest recently as Samsung officially unveiled its new flag bearer in the next leg of the race for smartphone supremacy. Yes, the Android-powered Samsung Galaxy S4 made its presence known to the world as eager eyes and ears in the tech community were finally satisfied. Despite the plateauing in global smartphone growth rate and the rise in Apple iPhone 5 sales in the last quarter of 2012, the Galaxy Series still reigns at the top of the mountain in popularity. Although the Galaxy S4's overall design and features are more evolutionary in update than revolutionary, it still seems bound to help Samsung reclaim the lead in smartphone sales this year. It will be the first Galaxy S series smartphone to make its global debut in the US.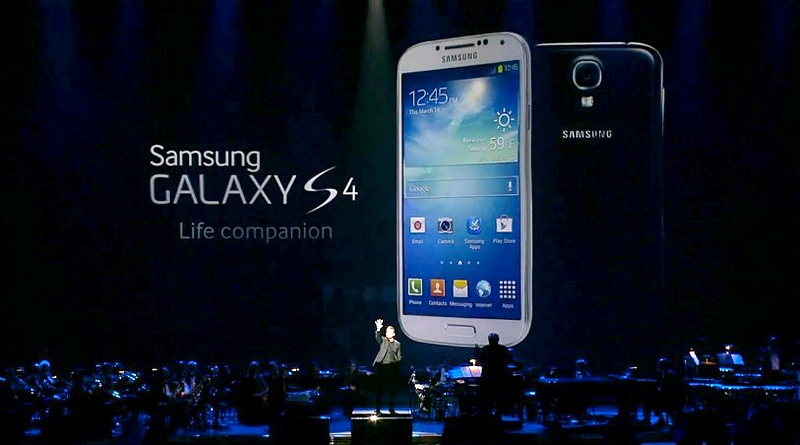 While there are no strikingly unique design updates over its predecessor, the Galaxy S4 lives up the hype in terms of its hardware power progression. The Samsung Galaxy S4 US LTE variant will feature a quad-core 1.9 GHz Qualcomm Snapdragon 600 SoCa processor with a RAM capacity of 2 GB, and will run the all new version of the Android 4.2.2 Jellybean OS tweaked with Samsung's own TouchWiz UI. Its international version will make it the first ever smartphone to utilize an 8-core CPU. It will pack the uber powerful Samsung-made Exynos 5410 octa-core processor along with a PowerVR SGX 544MP3 GPU. You will be surprised to know that the Galaxy S4's processor performance was more than twice as fast as that of the Galaxy S3 and the iPhone 5, which is a remarkable achievement, considering the Galaxy S4 and S3 are merely separated by a year in timeline.
Unlike Apple's S variants, there's a lot more than a mild spec boost between the Galaxy S3 and the S4. The Galaxy S4 is a 4G LTE device that will support blistering fast download and upload rates of 100 megabits/sec and 50 megabits/sec respectively. It also packs an infrared LED, which can function as a TV remote.
Surprisingly, these are just a handful of niche captivating features that make the Galaxy S4 such an attractive device to own. It also supports simultaneous translation of up to 9 languages with extreme fluency, super-syncing for sharing all media content, a dual camera that lets you appear in a mini window in the video or picture you are shooting or clicking. Although, the Galaxy S4 does not feature the heavily rumored scrolling by eye-tracking feature, it can still pause and play your videos by tracking your eye movements and scroll by tilting the phone.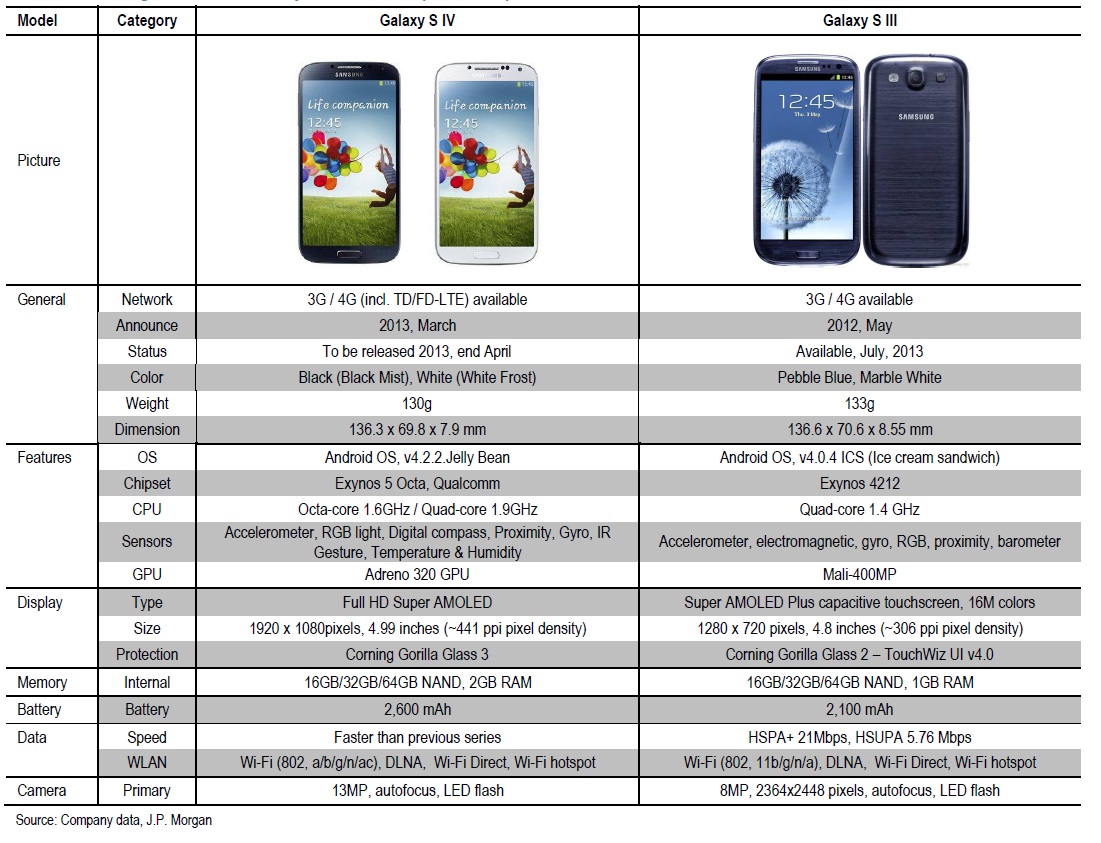 The Samsung Galaxy S4 possesses a decent plastic-built chassis that is 7.9mm thin and weighs a light 130 grams, which is perfectly complemented by a gorgeous and crisp 5-inch Full HD Super AMOLED Display with an impressive 441 ppi pixel density. It sports a 13 MP back camera and a 2 MP front-facing camera that give you the ability of simultaneous use for the first time. The camera also employs the awesome "Samsung Orb" imaging technology that facilitates 3D-like photos and panoramic images.
Samsung has also added a host of updated features like the Air View, which aims to reinvigorate your basic navigation experience by letting you access content such as SMS messages, photos, songs, notifications, etc. by simply hovering your finger above it over the screen. You can also use the Air Gesture feature to scroll back and forth between web pages by sweeping your hand over your Galaxy S4 display.
The Samsung Galaxy S4 has successfully upgraded its battery from 2,100mAh to 2,600mAh despite its reduction in thickness; hence ensuring a stronger battery life. The integrated Samsung Hub will help you integrate and collaborate all your music, gaming, video and educational content with absolute finesse under one platform.
In summary, the Samsung Galaxy S4 may not be the highly touted game-changing powerhouse in the world of next-gen smartphones; however, it utilizes a host of impressive hardware and user interface innovations to deliver a much more intelligent and interactive user experience that will help further cement the legacy of Samsung's Galaxy S-series.