Android users could soon have a way to  return to the safety of their home screen as soon as possible if their phone locks up for any reason.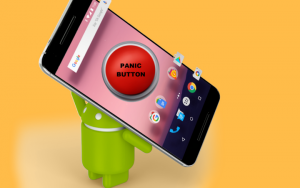 We have all experienced this stuff. Perhaps you have downloaded a suspicious app or come across a particularly pop-up that will not quit popping, and when you try to back out, your phone becomes unresponsive and you do not know what  to do.  In these situations, it would be nice to have some kind of "panic button," where you could instantly close the malicious software and safely return to your home screen. Fortunately for the Android users, this is exactly what Google has begun testing in the latest release of Android version 7.1 and higher.
The feature is quite simple and easy in practice. The default action to trigger the panic response is four presses of the back button, however XDA Developers notes that the number of presses can be modified in Android's SystemUI application package (APK), one of the operating system's core services. SystemUI controls the notification shade, status bar, and navigation buttons, so it makes sense that it would be involved in this process.
Once the system senses four presses that have been made in quick succession, you exit the app instantly. It is that simple, although the feature exists in the code, it seems it has not been enabled for any devices yet,   as Bleeping Computer notes. Developers and those familiar with Android can switch it on for themselves if they would like and if they know it will be a necessity for them, though it is unclear how reliable the feature is at this very stage. Google has not formally announced it — either for the simple fact that it is not ready yet, or because the company is trying to conceal security measures from malicious parties. We have reached out to Google for clarification.
Either way, the fact that such an option exists is good news for Android users. While Google has made significant strides in dumping out those malware in the Play Store, the relatively open nature of the Android ecosystem means there will always be a certain inherent risk. The company has pushed out patches with increasing frequency over the last several years and built a new front page for Android's built-in security suite in the form of Google Play Protect.
Over the last few months, we have seen increasingly advanced methods of mobile data theft crop up, so it is quite possible that hackers will find their way around this in time as well. Such in the nature of computer security, there will always be new threats to guard against. Still, just knowing there is an escape hatch built into Android is sure to give users additional peace of mind and reassure the users that they are safe and secured from any hassle.