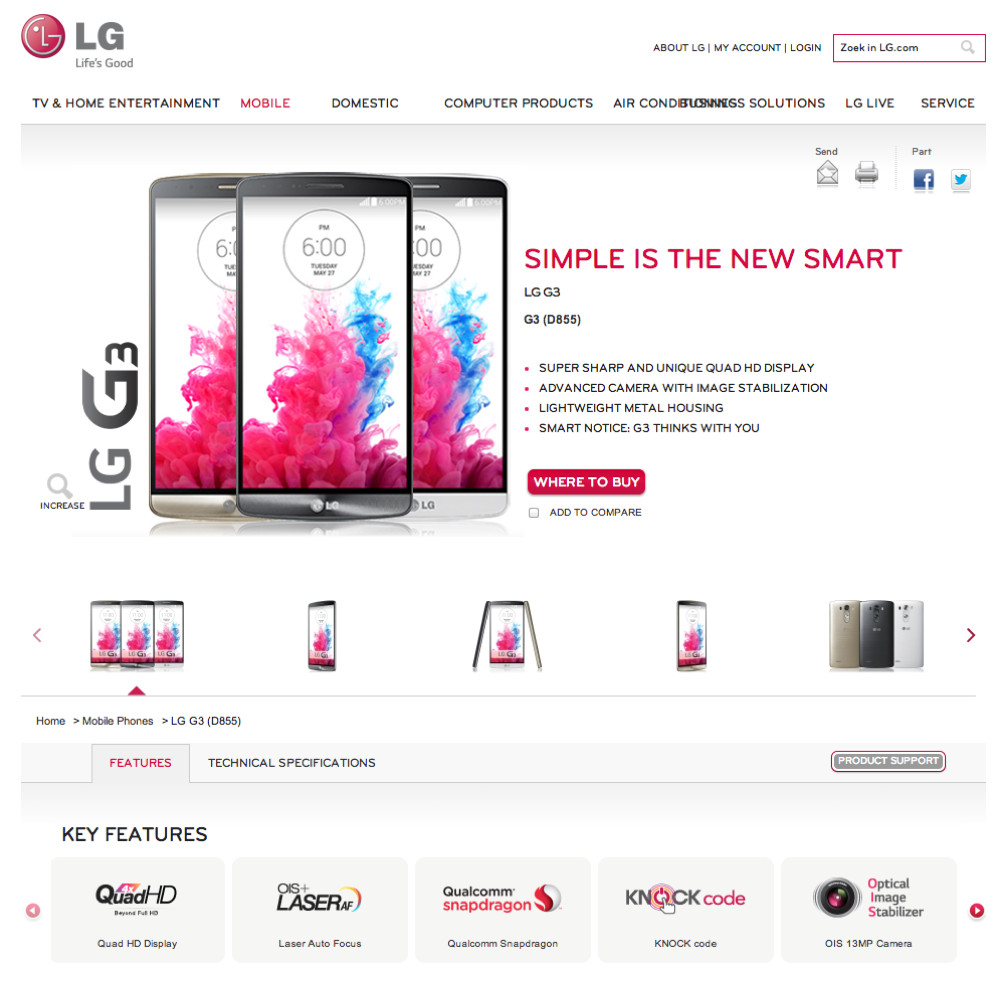 The LG G3 is the 'unofficial' upcoming LG flagship device.
Although LG hasn't officially announced it yet, a random Dutch Android site recently released a full list of specs and software features.
That means we now know virtually everything there is to know about the device. Without further ado, here are the (unofficial) specs of the (yet to be announced) LG G3:
-5.5 inch Quad HD display with 2560×1440 resolution and 538 (!!!) ppi
-"Advanced" 13MP camera (we don't know what "Advanced" actually means) with OIS+ and laser autofocus; 2.1MP front-facing camera
-Lightweight metallic design
-1 watt speaker with "boost amp" technology
-Redesigned user interface that is easier to understand
-Wireless charging
-3,000 mAh battery
-Micro SD card slot
-Snapdragon 801 processor with 2GB of RAM (although another rumored version had a Snapdragon 801 processor with 3GB of RAM).
There are no 'quad HD' smartphones currently on the market. The Note 4, however, is rumored to have a quad HD screen when it releases later this year. Quad HD is a moderate bump up from regular HD (2560×1440 versus 1920×1080). The ppi (pixels per inch) is particularly notable, however, has 538 ppi is far beyond most smartphone screens available today.
Another significant component of the LG G3 is the wireless charging feature, which is only available on a handful of today's smartphones – including the Nokia Lumia 920. This could be the year where wireless charging truly becomes mainstream.
Also, an earlier rumor from South Korea indicated that the LG G3 would have a Snapdragon 805 processor with 3GB of RAM. Either one of these sources is wrong or there are two versions of the LG G3.
In other words, it seems like LG could be going the route of Samsung and releasing a 'Prime' version of its flagship smartphone. That's not necessarily a bad thing, but it may alienate some LG fans who thought LG was different from HTC and Samsung.
Obviously, nothing on this page has been confirmed – the LG G3 hasn't even been confirmed by LG. Grain of salt, etc. etc.
All of this information comes from a Dutch website which apparently posted the details in error. Since the details are fully specced out and explained in official-looking advertising, most people are believing these to be the genuine G3 specs.
The advertising can be found below: