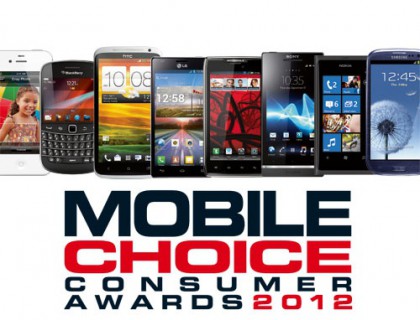 The 2012 Mobile Choice Consumer Awards were held last night in London. Although most people agree that the Samsung Galaxy S III is the world's best (or at least the most popular) Android phone, we finally received confirmation of that fact last night, as the Galaxy S III was chosen as the "Phone of the Year" over its competitors.
The nominees for Phone of the Year were:
-Samsung GS3
-Apple iPhone 4S
-HTC One X
-Nokia Lumia 800
-Sony Xperia S
Newly released phones like the Lumia 900 series and the iPhone 5 were not included, although they will undoubtedly be included on next year's ballot. The Samsung GS3 was declared the winner while the iPhone 4S was the first runner-up.
Apple didn't leave the awards empty handed, however. They took home top prize for "Tablet of the Year" with – you guessed it! – the new iPad. Asus's Nexus 7 was the first runner up in that category.
Here are the winners of several other interesting categories:
Best camera phone: Nokia 808 PureView
Phone with the best value: Sony Xperia U
Most innovative smartphone or tablet: Samsung Galaxy Note
Android devices were dominant at the awards show, with Apple taking home just one prize. The full list of winners, runner-ups, and nominees can be found here.