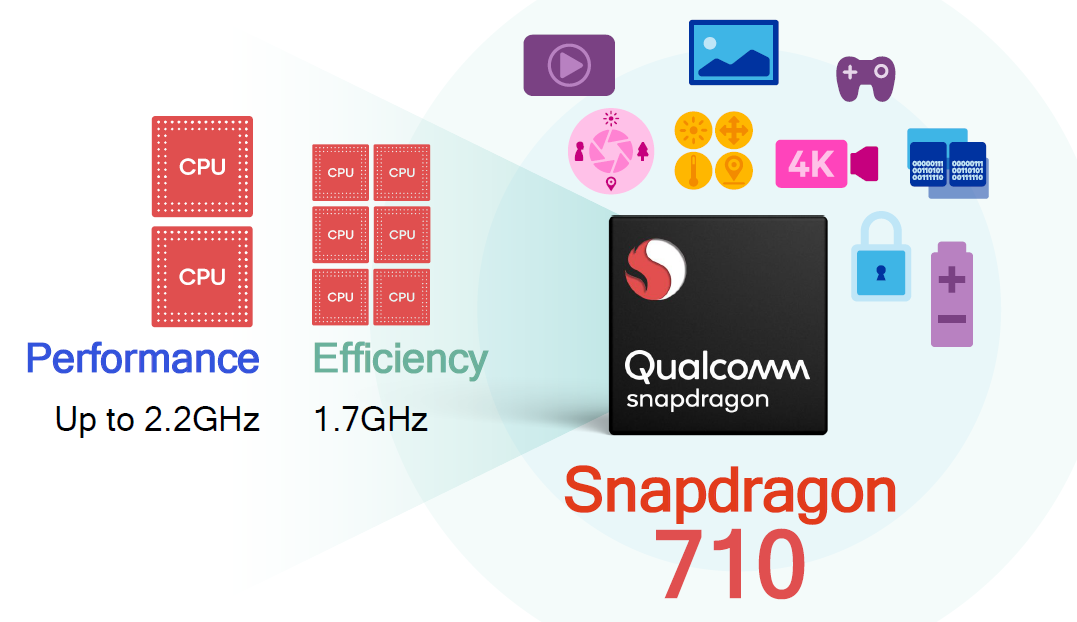 Keep your eyes peeled, and mouth closed. A new dragon is coming to town and ready to snap your breath.
Qualcomm just unleashed the new Snapdragon 710 – the father of its recently announced 700 mobile platform series. This new technology promises to make premium smartphones at a lesser price, boosts significantly on performance, better battery life, and more optimization.
You're probably raving to know the specific features this beast has in store for the future of smartphones – or particularly Android phones. But do note that the 700 series is considered a mid-range chip. So, its features play in between the 600 and the 800 series. Giving people who can't afford premium smartphones a chance to enjoy premium functionality at a cheaper price.
Let's hit it.
Don't be deceived by the numbering. The number may not sound very far from the 600 series, but the 700 series showcases a two-fold increase in overall AI performance. It has a faster image processing backed up by improved hardware acceleration and reduced power consumption. How cool is that? Video recording will no longer be a battery life punishment because this beauty consumes 40% less power.
The 710 is powered by custom Kryo 360 CPU. Designed with octa-core chip with two 2.2GHz ARM Cortex-A75 cores to serve performance paired with six 1.7GHz ARM Cortex-A55 cores for efficiency. Compared to the 660, this should give us a 20% overall increase in performance, 25% faster web browsing, and 15% faster app load times, and improved battery life.
The fresh hardware will also include OEMs with enhanced opportunities to implement AI features. The Neural Processing SDK is what bridges the gap between the hardware and the AI frameworks. Although, the company didn't reveal yet what type of features the AI engine will enable, yet we could somehow predict that it's close to how the 800 series works.
If you've heard of MediaTek Helio P22, you can easily compare its similarities. It also provides premium AI at a lower price.
On the phone manufacturers point of view, it may be hard for them to utilize the Qualcomm Snapdragon 710 because they've already released their best smartphones this year powered by the 800 series. To create a downgraded smartphone might have a low chance of happening or won't happen at all.
The consumer demands for today's smartphones are always who's got the better technology. Buyers are wiser in investing in smartphones and will not care if they'll buy an expensive one if it can provide better features and can use it for a long time. This means that a mid-range smartphone may not be ideal for today's market.
We're not sure how Qualcomm will play this through to the brands. They will need a lot of convincing to sell out. It's beneficial for people who settle down with the typical use of phones like messaging and calling because it's cheaper and has a better battery life. The problem is, their number is below half of the consumer population.