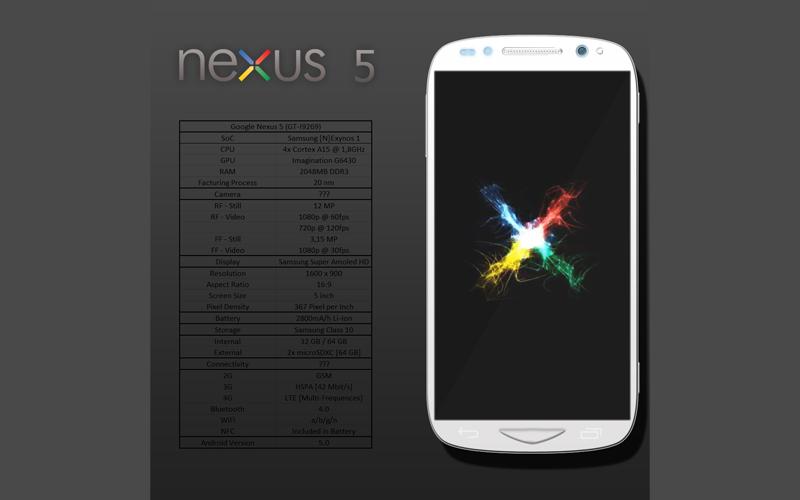 The Nexus 5 will be one of Google's largest phone releases of all time. While the Nexus 4 is an excellent phone, it faltered due to its lack of LTE support and limited availability at launch (and after launch).
Google will aim to solve those problems with the release of the Nexus 5. The team at Androidworld.it recently revealed the Nexus 5 specs after digging deep inside a Nexus 5 log. Based on these specs, the Nexus 5 will be a very fine phone indeed:
-5 inch 1080p display with 442ppi pixel density
-Android 4.4 KitKat will run right out of the box
-Snapdragon 800 chipset with quad-core 2.3GHz Krait 400 CPU and Adreno 330 GPU
-2GB of RAM
-16GB of internal storage (although there will be a 32GB model as well)
-8MP, possibly with optical image stabilization and possibly with the ability to record 4K videos
-1.2MP front facing camera with 720p video recording
-2,300mAhbattery
Obviously, the biggest disappointment about these (rumored) specs is that the Nexus 5 features an 8MP camera. That's so 2012, and it's not enough to make the Nexus 5 compete with the latest Android smartphones on the market. However, it's important to keep in mind that the iPhone has similar camera specs and manages to take decent pictures.
Nexus 5 release date
There are all sorts of rumors floating around about the Nexus 5 release date. However, all of these rumors point to two dates:
-October 14
-October 31
In other words, it's coming soon. The online rumor mill has also speculated that the Nexus 5 will have wireless charging support, which would be cool but unlikely.
Keep in mind that the Nexus 5 tech specs come from an Italian Android website that most English speakers have never heard of before. These specs have not been confirmed by any other major publication. Something something grain of salt.