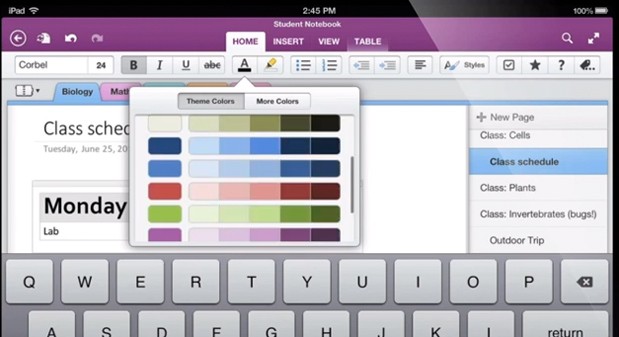 Android tablet users have more to cheer about with Microsoft releasing OneNote. It will have handwriting input and will thus enable Android users to experience something that Microsoft had envisaged for their Microsoft Surface creation.
Readers will remember that when the release of Surface Pro 3 happened, OneNote was one of the prominent applications on that device. Users could modify and use typed notes, text and written annotations the way they wanted. They could also mix as well as match audio files, images and thus use the stylus to good effect. Now with the new update, this Windows app can also be used to import PowerPoint presentations and PDF to highlight text or make the changes the user wants. Printing too is very convenient.
Android Tablets Get A Leg Up
Many of the features associated with the OneNote has now been incorporated into the OneNote installed on the tablet. The handwriting support actually took longer in coming but now that it is there, the OneNote experience is complete in the Android tablet. When you download the application on say a Galaxy Tab Pro which is just like the Surface Pro, you can get to enjoy the OneNote with the stylus and feel the difference.
The OneNote also has a ribbon similar to the Office. But for formatting text, you have to first select the text and then "Home" before making the edit. You can bring up the Samsung menu by just clicking on the Tab Pro stylus but will not get anything specific to OneNote. However, now that it is easier to type a note, pull an image and put your comments next to it, users will love and want to use it more often. Importing any PowerPoint presentation or a PDF will still not happen but a work around is possible by the export of the files as JPEGs.
New Capabilities Boost OneNote
Microsoft has been regularly equipping the OneNote with additional capabilities from time to time. After it updated the Mac as well as the iOS with fresh OneNote versions, the performance on devices like the iPads, iPhones, Mac, Windows phones and various Android gadgets has received a huge boost. Without the handwriting support however, it was irritating to each time type or voice dictate a note on the tablet or phablet. But now the performance productivity is much better and especially on the Samsung Galaxy, the bigger screen along with multi-window facilities, the user experience is pretty good.
This application can be downloaded from the Google Play Store.