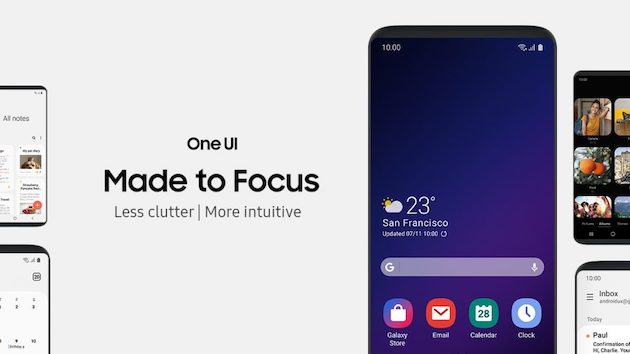 Many things were announced during the Samsung Developer Conference in San Francisca, CA. But, three of them caught our attention and we thought it's only best that you know as well. Here are the three major announcements Samsung made this week.
New Samsung One UI
Samsung has an all-new take on its software experience. The new software designed is called "One UI" and it promotes simplicity, convenience, and makes everything more visually appealing. Overall, it's a new approach to content and controls.
One UI will show two features at once of a single app. The screen will split up displaying a viewing area on top, and an interaction area at the bottom. For example, launching the Clock app, the top half of the screen will show you information about the time, your next alarm, and more. While the bottom half will allow you to change these settings without changing screen.
The new software will have a rounded interface including the icons, the highlight box, and everything else. Samsung will release a beta test program for One UI this November.
Samsung opens Bixby to developers
Good news to all app developers! You can now be like Samsung's internal developers with your very own access to Bixby.
Samsung will be opening wide to the public and the number of third-party developers that will have access to Bixby will be unprecedented. The company is not concerned with its competition like Amazon Alexa and Google Assistant.
This is not only true to mobile phones but other products as well such as televisions and refrigerators. Samsung plans that all their products will receive Bixby integration by the year 2020.
Bixby is not as big as Google Assistant but we can't really predict when the tables will turn.
Google announces native Android support for foldable phones
Samsung Developer Conference is still rolling and there is still no mention about the foldable phone. However, it looks like Samsung is really planning to market the phone this week since Google already introduced the native Android support for foldable phones.
Dave Burke, Vice President of Engineering, said, "You can think of the device as both a phone and a tablet. Broadly, there are two variants – two-screen devices and one-screen devices. When folded, it looks like phone, fitting in your pocket or purse."
To make sure the app works perfectly in a foldable display, Google will be updating its screen continuity API. This will allow apps to automatically adjust to the size of the screen and the orientation once the phone is folded.
Google is simply pampering manufacturers and developers to build apps and hardware easily as we approach the foldable phone era.
If Samsung indeed announces a foldable phone this week, or just show a prototype for that matter, Android developers should already have apps ready to support the new device.
Samsung Developer Conference is not yet over and who knows what else has this South Korean company has in store for us. We'll keep you updated on more interesting Samsung outcomes and announcements.