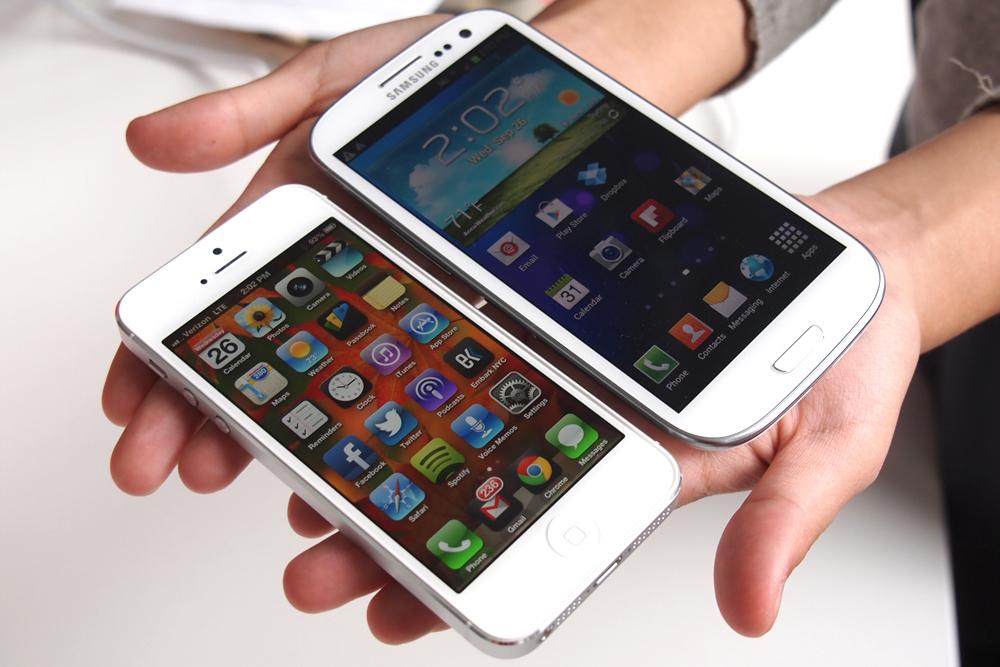 Here we are with another news story about the Galaxy S4. Today, we're looking at the Galaxy S4's battery life and how it compares to other leading Android smartphones available on the market today. Because nobody wants to ride the train home with a dead smartphone in their pocket.
On that note, GSMArena.com measured the GS4's battery life and stacked it up against some of the best Android handsets and Apple smartphones available today.
The results? Well, the GS4 doesn't have the best battery life among Android smartphones, but nobody really expected it to. However, the GS4 handily beat out Apple devices in almost every battery life category.
Keep reading to discover how Samsung's newest superphone stacks up against the latest and greatest from Apple.
The results
The way I cropped these pictures makes the GS4 look poorer than it really is. Although the GS4 is placed towards the bottom of each list, that list goes down for dozens of more spaces. Showing all the entries would have been too much for this little article to handle. But rest assured that the GS4 is ranked highly among all smartphones available today. You can also view the full rankings here.
Web browsing is the only category where the iPhone 5 has an advantage over the GS4.  In fact, the iPhone lasts over one hour longer than the Galaxy S4 in that category.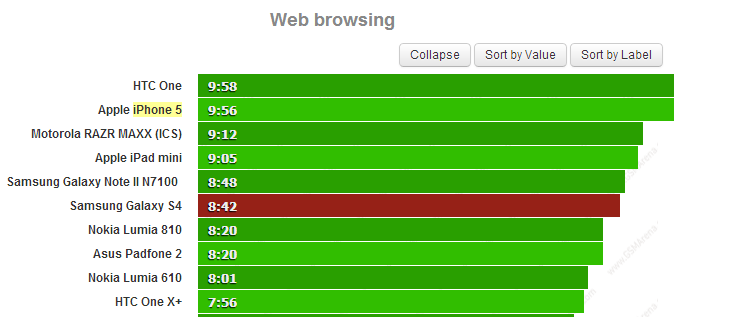 In terms of talk time, however, the iPhone didn't even crack the top 20. It's located near the bottom of the chart with a measly talk time of just 8 hours and 42 minutes compared to the Galaxy S4's talk time of 13:53.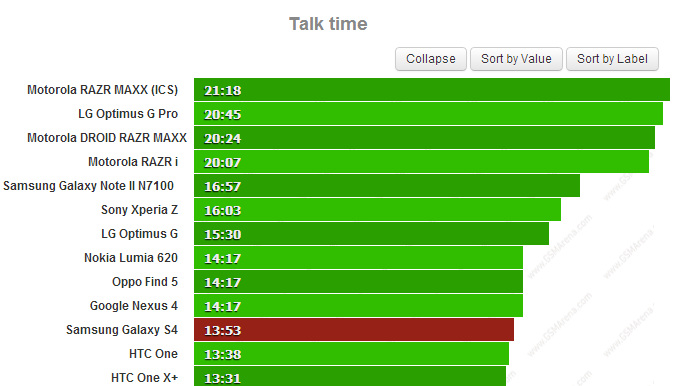 Meanwhile, in terms of video playback, the two are pretty much equal, with the GS4 holding a 4 minute advantage over the iPhone 5.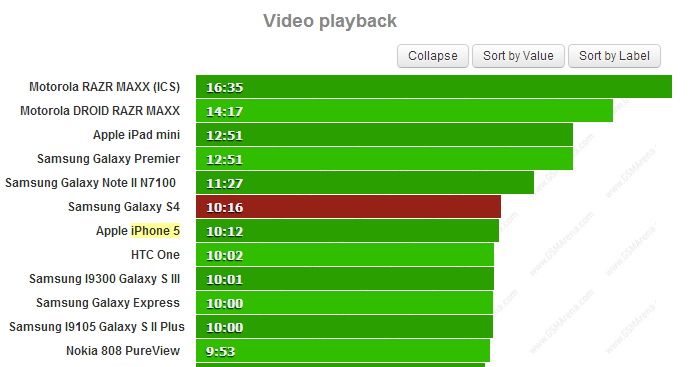 Impressive
It would be unfair to say that the GS4 blows the iPhone 5 out of the water in terms of battery life. But it's significant that the GS4 is anywhere close to the iPhone 5 as far as battery life goes. After all, the GS4 features the most powerful smartphone processor available today and is one of the world's first smartphones to boast a full HD 1080p screen.
With all that power, many thought the GS4 would lag behind the competition in terms of battery life. After all, supplying enough juice to keep those components running is no easy task.
So kudos to Samsung for managing to surpass battery life expectations. It looks like the GS4 will be a real winner.