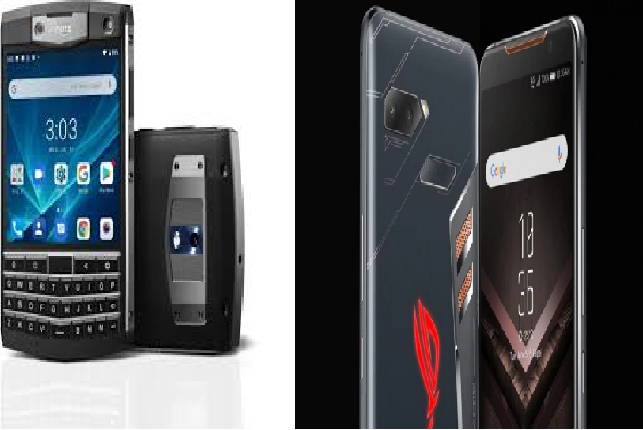 We're halfway through the year 2019 and the first half has been a great year for Android. A number of awesome Android phones were launched, innovative features introduced, and, of course, a lot of controversies in the industry occurred.
To welcome the second half, Unihertz and ASUS graced us with new upcoming phones that should shake, once more, shake the Android market. Introducing the new Unihertz Titan and what we hope will be launched as the ASUS ROG Phone 2.
Unihertz Titan is like a BlackBerry clone
Not many Android phones duplicate the classic BlackBerry look, not until Unihertz introduced their newest Android phone – Unihertz Titan.
At first look, you'll think it is a BlackBerry clone, specifically the BlackBerry Passport running on Android. That means a 4.5-inch LCD screen (1,440 x 1,440) and a physical keypad that offers physical navigation keys as well as a space between them for what looks like a front-mounted fingerprint scanner.
Other disclosed specs include wireless charging, IP67 water/dust resistance, dual-SIM support, face unlock, NFC, and what looks like a solitary rear camera. But arguably the best feature might be its battery life, offering a 6,000mAh battery that should easily give you two days of juice in theory – now that's Titan.
The Unihertz Titan was originally available at a super early bird price of $199, requiring a $10 deposit. As of writing, the price has increased to $219 with a $15 deposit. That seems pretty cheap for a device with a 6,000mAh battery and a physical keypad.
A proper look at the ASUS ROG Phone 2?
ASUS ROG Phone launched in 2018 is arguably one of the best gaming phones today. The better news is the super-powered phoned will have a successor as spotted on Weibo. The new gaming phone showed a traditional bezel and single selfie camera, rather than a notch or any other cutout. The interface also looks similar to the first phone's ROG UI.
Rumors suggest the Asus ROG Phone 2 will offer a 120Hz refresh rate, up from 90Hz in the original device. One of the pictures uploaded to Weibo shows a refresh rate menu, apparently letting users choose between 60Hz, 90Hz, and 120Hz.
The ability to choose your desired refresh rate could help with performance in games, especially in titles that can't maintain 120fps to begin with. Choosing a lower but more consistent refresh rate could make for a smoother overall experience. Selecting a higher refresh rate may also impact battery life, though. A higher refresh rate increases your target frame-rate, theoretically requiring more power.
We don't know much else about the Asus ROG Phone 2 at this point, but the company has reportedly confirmed that it will offer the brand-new Snapdragon 855 Plus chipset. The previous model also offered ultrasonic triggers and a variety of accessories, so don't be surprised if these features return. Asus is holding a ROG event on July 23, so you'll want to keep an eye on this for any ROG Phone 2 news.
Are you excited for these latest flagships? Because we are. A new power overwhelming gaming phone and a 6,000mAh battery, this year for Android couldn't get any better.