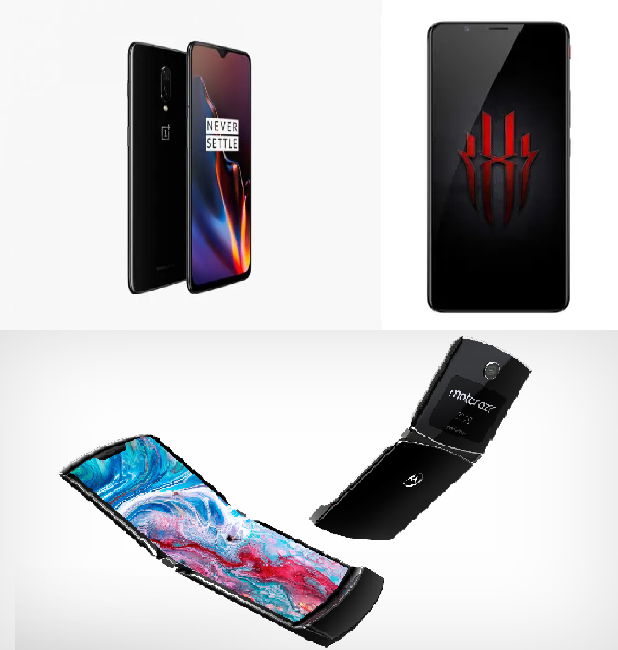 We're approaching the dawn of May, but before that, April is not yet done giving us a handful of surprises. Here are three upcoming Android phones you should look out for and what make them special.
Upcoming Motorola RAZR
There is an upcoming Moto RAZR this 2019 and rumor has it that it's more likely a foldable phone. From patents, reports, hints, and tips from the company itself, they all suggest that we'll be seeing the new RAZR adapt to the trend. Hopefully not as disappointing as the Samsung Galaxy Fold.
The RAZR foldable phone is said to go old school. Meaning, it will look like a clamshell-style for the phone-first device, unlike the common phone-to-tablet foldable approach of Samsung and Huawei. In short, it will look like a flip phone that folds in half, probably to save space in your pocket.
Leaks from Weibo shows that the Moto RAZR will feature the classic RAZR chin, monument-style box, and clever packaging. Motorola has not confirmed these leaks yet so, don't get your hopes up. We're still waiting for the company to share more details about the rumored device.
OnePlus 7 Pro Screen gets an A+ rating
The OnePlus 7 Pro will be launching next month in which the company co-founder described the device as "redefine fast and smooth."
Recently, the manufacturer has announced that the phone's screen received an A+ rating from the screen-testing company DisplayMate. According to DisplayMate, the device has one of the best smartphone displays on the market today. The company also said that it received "safety for eyes" certification due to its improved eye protection functionality which smartly adjusts temperature and brightness.
The detailed assessment by DisplayMate will be released together along with the launch of OnePlus 7 Pro on May 14. Recent leaks suggest that the device will have a 1440p screen with a 90Hz refresh rate.
Nubia Red Magic 3 could be your daily gaming phone
Nubia is introducing another set of gaming handset namely Red Magic 3 – fully equipped with a built-in specialized cooling system and gaming specs. It has a 6.65-inch FHD+ ultra-widescreen display with 90Hz refresh rate and supports HDR content. For a more cinematic soundscape and better gaming feel, the company installed the DTS:X speakers and other 3D sound technologies front-facing.
The device is powered by Snapdragon 855 CPU, Adreno 640 GPU, and 5,000mAh battery with 27W quick charging, allowing an hour of gaming in just 10 minutes charging. The phone will come in three variants: two has 128GB of storage with either 6B or 8GB of RAM, while the third option has 256GB storage with 12GB of RAM.
But, that's just the start of it. The phone's highlight is more on what is called the "liquid cooling." This cooling system uniquely contains a heat pipe with a liquid inside that helps keep the CPU cool. The company describes the technology a "state-of-the-art liquid cooling technology with an internal turbo fan." It is said to increase heat transfer by 500 percent which should make smoother gaming experience.
The Red Magic 3 also includes a switch not found on other phones. The phone will launch a gaming dashboard called the "Red Magic Game Space 2.0." Users will be able to quickly launch games, control the internal fan's speed, monitor temperatures, and even record in-game videos.
The Nubia Red Magic 3 will be released on May 3 in China. The handset will also be available to customers in the U.S., Canada, E.U., and the U.K. in May, but an exact date and price were not yet specified.