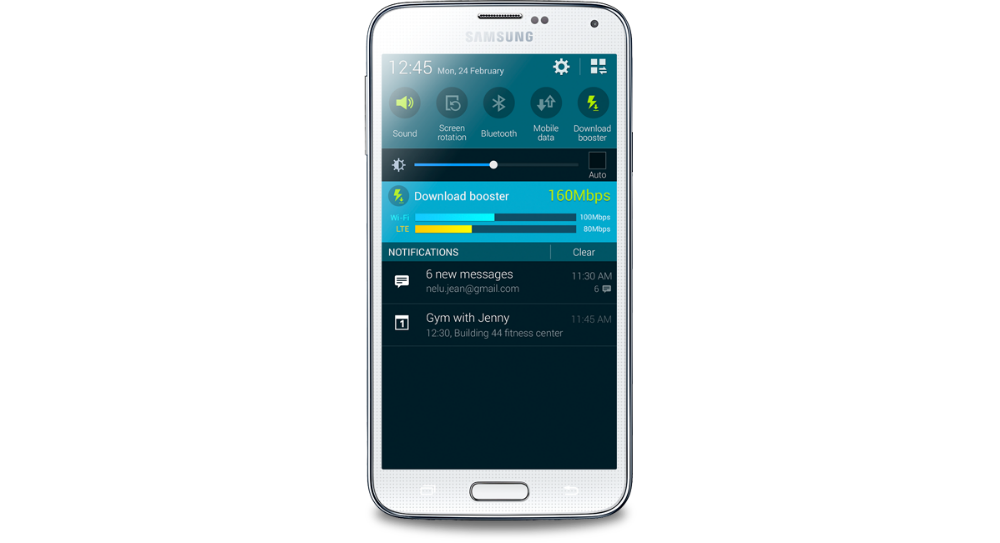 The Galaxy S5 was announced with something called Download Booster.
Download Booster was a unique feature that could be activated from the dropdown menu whenever you needed extra download space. It let you simultaneously download data from Wi-Fi and LTE networks to increase your download capacity.
The feature was popular with anyone who had a large data plan, but US carriers have now removed the feature from their devices. AT&T, Verizon, and Sprint have all removed the Galaxy S5 Download Booster.
T-Mobile is the one major carrier that chose not to remove Download Booster. In fact, T-Mobile has even prominently featured Download Booster on its website.
Verizon is notorious for removing device-specific features. Last year, following the release of the Galaxy S4, Verizon removed Blocking Mode.
No specific reason was given for removing Download Booster, although folks are getting suspicious. It's likely that the US carriers didn't want networks clogged by people on unlimited data plans or near-unlimited plans.
Basically, US carriers have a history of making it difficult for people to use their data plans, and removing the Download Booster feature is just another element of that. If you want to enjoy Download Booster in the states, you're going to need to sign up for T-Mobile. Unfortunately, if you don't live in or around a big city, T-Mobile's network coverage is notoriously spotty.
Once the Galaxy S5 is released, some member of the XDA Developers Forum will likely release it for phones on AT&T, Verizon, and Sprint. I'm not sure if it will require root access, but it's possible.