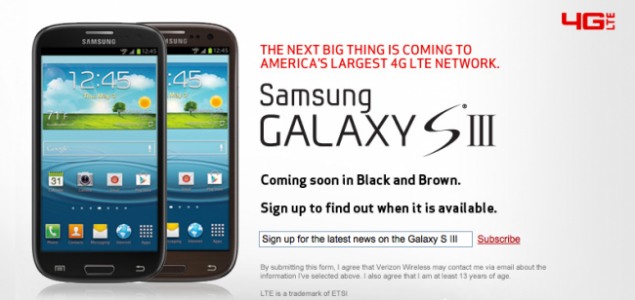 The Samsung Galaxy S III is generally considered to be the world's most popular smartphone. But if there is one minor criticism about the S III, it's the fact that it is only available in two colors: blue and white.
That is no longer the case for Verizon customers. Verizon recently announced that black and brown versions of the Samsung Galaxy S III would be released to the network soon. Although Verizon hasn't specifically stated the release date yet, the new colors should be available within a few weeks.
If you can't wait to check out new Samsung Galaxy S III colors, then Verizon has a signup page where you can enter your email address to be notified as soon as the new colors become available. Check it out today at the official Verizon site.
Oh, and despite rumors that a black S III would feature 64GB of storage (twice as much as the top level 32GB S III available today), this upgrade appears to only be a color change.