Exploding cell phones are among the most persistent myths in the mobile phone world. Ever since mobile phones were first invented, people claim to have been victimized by flying shrapnel as their mobile phones spontaneously exploded.
Whether exploding phones are real or not, one Reddit user recently caused a stir with a fascinating story of a Samsung Galaxy S3 betraying its owner. That Reddit user is vizionx1208, whose thread on r/Android entitled "My Samsung Galaxy S3 exploded last night while I was sleeping" has been upvoted over 6,000 times.
Here's the story:
-Vizionx1208 plugged in his phone at around 2:00am and placed it on his nightstand
-At 3:15am, Vizionx1208 was woken up by a loud noise and a weird squeaking sound
-Vizionx1208 looked over at his nightstand and saw "a ton of smoke" coming out of his phone that "smelled REALLY bad"
-Vizionx1208 turned on the light to find that his phone was on fire and melting away
-Vizionx1208 dumped water on the fire, which isn't a good idea with an electrical fire but eventually managed to put it out
As with anything on the internet, if there aren't pics of it, then it didn't happen: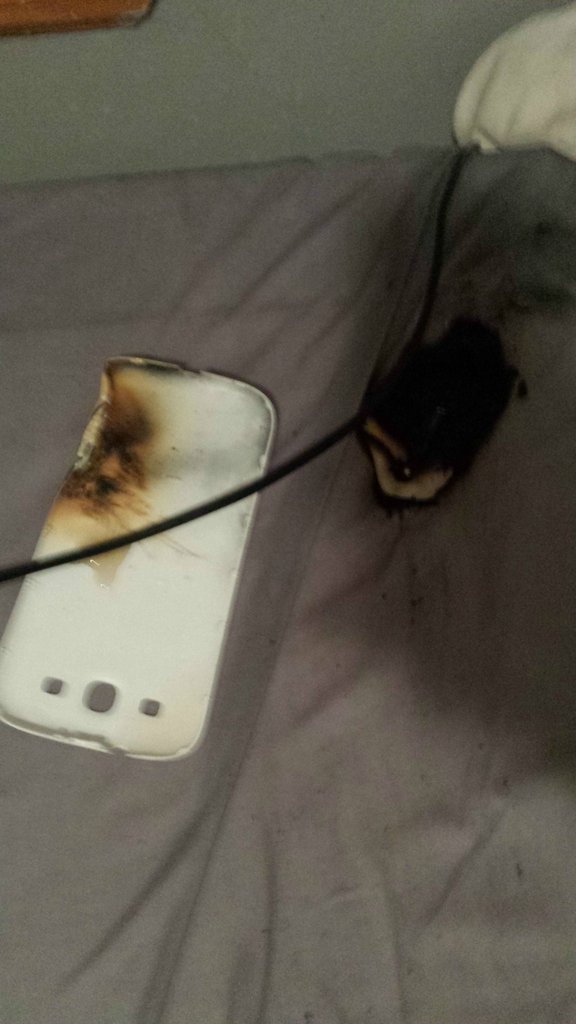 The full suite of pictures taken by Vizionx1208 can be found at this imgur album.
Vizionx1208 says that his phone was running stock Android with stock parts and that it wasn't rooted. So maybe rooting your phone will prevent it from spontaneously exploding? It couldn't hurt!
What do you think? Is Vizionx1208 an Apple fanboy in disguise, trying to undermine the solid reputation of the Galaxy S3? Or are the world's GS3s just waiting for the opportune moment to turn on their masters and take over the world?
Personally, I think all Samsung Galaxy S3s were designed to self-destruct soon after the Galaxy S4 was announced.