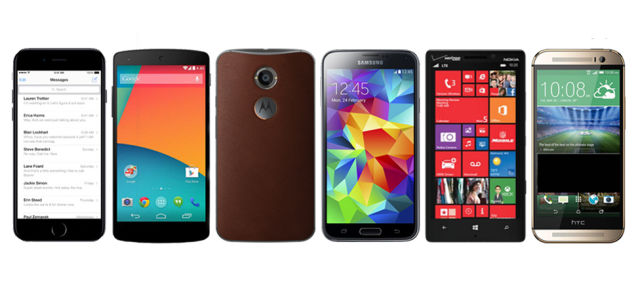 Looking for a new Android phone? Not sure what to buy? Overwhelmed by the combinations and possibilities?
Instead of listing detailed tech specs and comparing mobile processors head-to-head, I've decided to take a different approach: one sentence round-ups. If you're struggling to decide which phone to buy, then here are brief explanations of each Android device's major selling points in 2014:
Samsung Galaxy Note 4: Arguably the most powerful Android phone in terms of specs, the Note 4 has a high-resolution 2560×1440 5.7-inch screen and possibly the best camera and battery life on the market – as long as you don't mind TouchWiz UI.
Samsung Galaxy S5: Like the Note 4, the Galaxy S5 features powerful tech specs (with a 1080×1920 screen instead of qHD) as well as a spectacular camera and vibrant display – as long as you don't mind TouchWiz UI.
Samsung Galaxy Alpha: Easily the most durable Samsung phone on the market today, the Alpha offers a 4.7-inch screen and a metal body which makes it feature far more solid than the plastic bodies of the Galaxy S and Note lineups, but lacks the top-end tech specs of its more powerful brothers.

Motorola Moto G: A cheap off-contract Android device that features below-average tech specs but offers plenty of modern Android features.
Moto X: A top-end Android phone which features the closest stock Android experience you can get outside of buying a Nexus, but is hampered by average battery life and average camera specs.
HTC One M8: Excellent build-quality which feels incredibly solid in your hands (although it does have a weird bulge in the back that makes it easy to drop) which offers high-end specs (although lacks a high-end camera), the popular Sense UI, and superior audio delivered via two-front range speakers.
HTC E8: The cheaper alternative to the HTC One M8, the HTC E8 features a weaker, plastic body than its bigger brother and average tech specs (and a poor-quality camera), although makes up for it with a competitive price tag.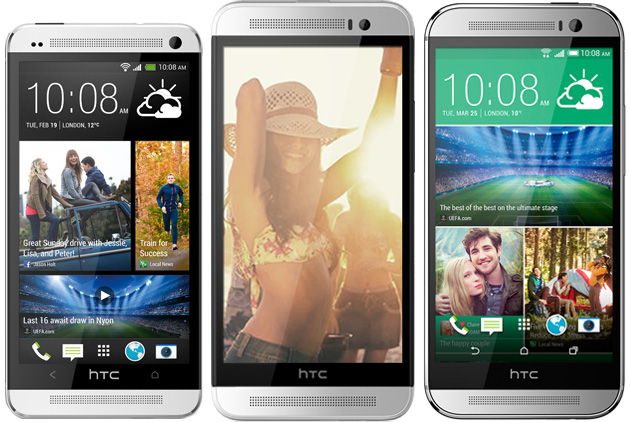 Sony Z3: Incredibly water resistant and dust-resistant (IP68 protection means you can easily take pictures underwater), the Sony Xperia Z3 offers excellent multimedia features but is hampered by an average camera and limited availability in North America.
Sony Z3 Compact: The little brother of the Z3, the Z3 Compact offers the best Android battery life on the market today along with high-end tech performance (although it only has a screen resolution of 720×1080) and the same waterproof and dust-proof protection as the Z3.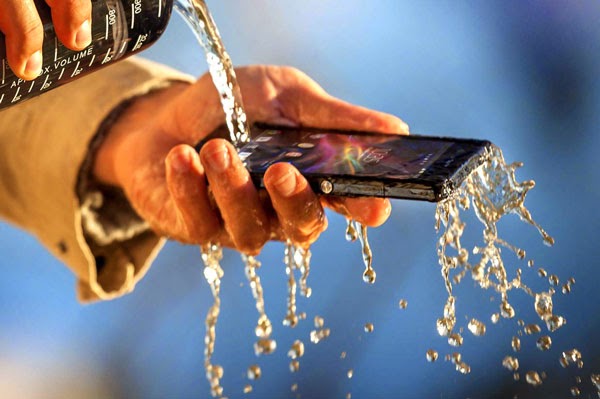 Oppo Find 7: A cheap Android smartphone which offers one of the best price/performance ratios on the market today, the Find 7 is made by a relatively unknown Chinese manufacturer but compares (at least on paper) to top Android devices.
Oppo OnePlus: Oppo's flagship device, the OnePlus, offers superior specs compared to the Find 7, including a 5.5-inch full HD screen and a relatively cheap price tag for a contract-free phone (starts at $299).
Nexus 5: The Nexus 5 offers high-end tech specs and a beautiful, stock Android experience available at a cheap, contract-free price, but is hampered by a disappointing battery life and average camera quality.
Well, there you have it: a roundup of all the major Android devices available today. If I missed any obvious ones, feel free to yell at me in the comments below!