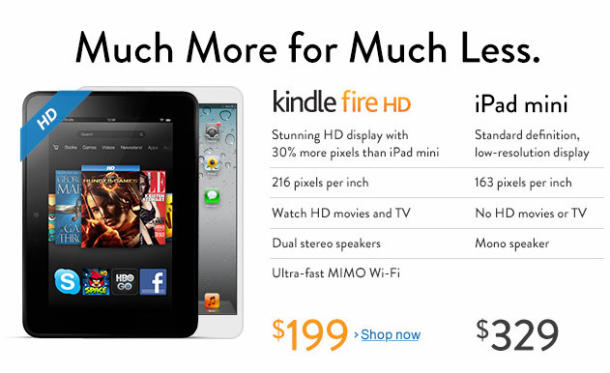 It looks like Apple's latest marketing attempt has backfired. After its massive press extravaganza last week involving the iPad Mini and several other product refreshments, Amazon sold more Kindle Fire HDs in a single day than ever before.
Since the Kindle Fire HD is more powerful than an iPad Mini and available for $199 as opposed to $329, it looks like many consumers simply aren't willing to pay the 65% premium anymore. Clearly, many consumers were left unconvinced by Apple's press announcement.
Some tech analysts are suggesting that prospective budget tablet users were waiting for Apple's announcement before deciding which tablet to buy. And after they were unimpressed by the iPad Mini's lack of features and hardware, it looks like many of these consumers chose the Kindle Fire HD.
Granted, preorders of the iPad Mini have already sold out. But that happens with every Apple product, and we don't know how many iPad Minis were even created.
In any case, it looks like $329 is simply too much for consumers to pay for a tablet with less performance power than just about any computer sold in the last five years.