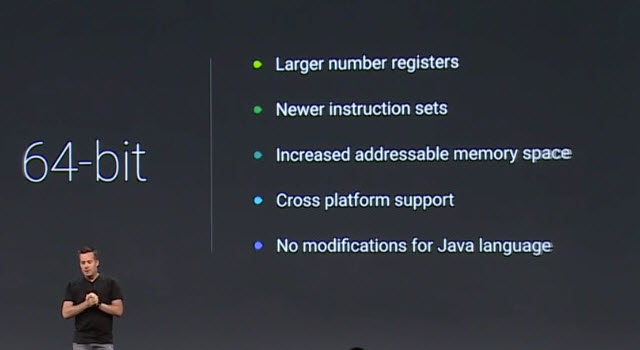 The thought of using the 64-bit processor for smart phones powered by the Android operating system was not so popular last year when the iPhone 5 was launched. However since then, there has been a rethink and the ones that are going to be launched with the Android L will feature this 64-bit hardware, which promises to vastly improve user experience.
It Is Going To Be Mainstream Technology
Now that manufacturers are more than keen to incorporate this 64-bit hardware into their phones, it is going to be the mainstream technology behind devices made by companies like Huawei, HTC, Lenovo and K-Touch, to name a few. They have all signed up with Qualcomm to get the Snapdragon line of processors, which will be compatible and needed to run the Android L.
Brands like Samsung and Media Tek too are not far behind as they all prepare to unleash their next line of devices running on the 64-bit hardware for the remainder of this year and going into early next year.
Google may be the first in line to release the Android L devices with the 64-bit processor and the others that are going to wait for the upgrade may not currently have the benefit of this processor to be able to enjoy the features of the Android L to its fullest.
Apple Saw The Advantages Early
Apple was quick enough to recognize the benefits of the 64-bit hardware computing ability and its impact on RAM optimization. It sensed that with this technology, it can enhance user experience when it came to gaming, scanning of fingerprint, facial recognition, speech recognition and therefore introduced it in its iPhone 5.
While aspects like face recognition and fingerprint matching may not appeal or seem important right now, they are going to be very much in the news as we go along. That is because smart phones are going to be increasingly used by all and sundry and security is something that will matter the most. That is when technology like the 64-bit can be pretty useful to have.
Other Uses Worth Noting
In addition to the above mentioned utilities, improvement in battery life and performance of apps are other definite uses that are being studied. There is unanimity that most of the Google apps currently working in the 32-bit environment will perform excellently in the 64-bit scenario as well. New apps tuned to 64-bit processing speed will further enhance smart phone usage.
The move to the 64-bit hardware represents a paradigm change as till now, mobile technology has been working only on 32-bit. While desktops along with servers made the change early on, the huge number of mobile devices working on 32-bit will find it difficult to run apps that function on the 64-bit processor.
Android users are in for exciting times considering that the Android L ART runtime has been optimized to be compatible with the 64-bit processor. The reviews coming out after its introduction will pave the way for more interest on this technology.