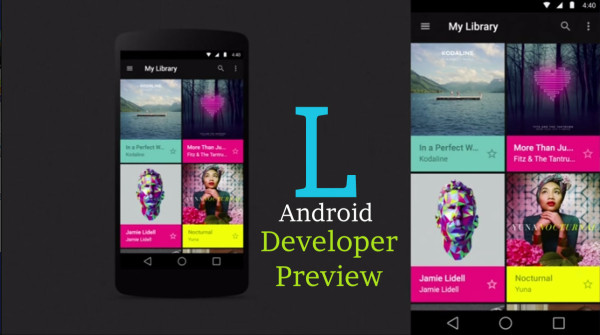 Google has named the latest version of its Android OS as Android L. There is no doubt that this version would be upgradeable and you can enjoy its benefits on your current phone. But it will be some time before application developers move in with their creations to fully utilize its features and ensure a great user experience. According to Sunder Pichai, the Android head, this upgrade is quite a significant one as it would have 5000 new APIs that developers can preview soon. Moreover, voice too is going to be a major source of input in this operating system, making it a contextually aware upgrade.
The other exciting aspect of Android L is the anticipation that this operating system would be a seamless hit across gadgets. Yes, not only smart phones but tablets, glasses, notebook personal computers and watches will benefit from this software upgrade. It is also interesting to speculate about what the "L" in Android L actually stands for?
Given Google's penchant for naming operating system versions after foodstuffs, it would be fair to presume that "L" stands for Lollipop. On the other hand since it would be difficult to ignore the tremendous contributions made by the Australian offices of Google to the development of the Android OS, "L" might also stand for Lamington.
Be that as it may, now that it is possible to install the free version of this operating system on Nexus devices, what strikes you immediately is the 'material design' philosophy you are exposed to when you switch on your Nexus. This design makes objects on screen appear very life like. For example, you would be able to have a 3D effect of objects where in even the dimension of depth would be visible to the naked eye. Every animation and ripple will stand out, enhancing the visual effect tremendously.
The intuitive feel is unmistakable. You get to see more of the shadow gradients and 3D tiles. The Roboto font too has undergone updating. The notifications also look much better. You can see and interact using them from the lock screen or from the home screen. The moment you pull down the panel of notifications, you get into the panel of quick settings where you would be able to set new features like Do Not Disturb. This is very much like the Block Mode found in Samsung Galaxy.
Android L will prioritize notifications depending on how often you look at a particular one as it would constantly keep learning from your usage. The notifications will also not be obtrusive; they will appear at the screen top and not hinder your view of the screen. Messages too are expected to appear as such so that there is no intrusion at all.
Though Android L is far from finished, it appears to be a very sleek and elegant operating system as you would not have to go through many interface layers to access a particular application. That is one significant user friendly difference that will be appreciated a great deal.