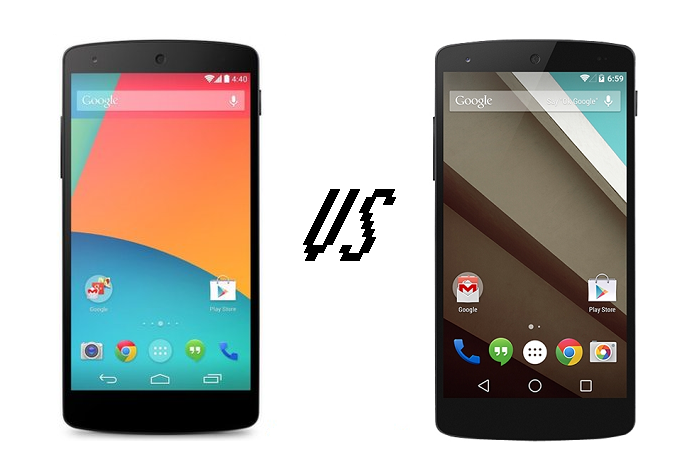 If you have just upgraded to Kit Kat or bought a phone that has Kit Kat as the OS, you must be undergoing a lovely user experience. But hang on! What if you can now upgrade to the latest OS from Google and get to enjoy an even better interface and other features associated with the Android L or Android Lollipop?
Indeed, after much anticipation and hype about it, the Android Lollipop has finally been launched with Nexus devices. However, Google has made it clear that it would upgrade other brands as well with Motorola and HTC being the foremost among them.
Efficiency Is The Keyword With The Android L
Google has with the launch of the Android L tried to bring  in a paradigm shift to its OS design, looks, features and most importantly, efficiency. Though the Kit Kat that is currently powering over 30% of the Android smart phones in the world is very light and relatively free of bloat ware, Android L is even more refined with touched up back-end and protocols for better efficiency.
So let us look at the vital differences between the Kit Kat and Android L.
a) Design – There are similarities but the new Material Design takes the Android L to a new aesthetic level with animation, 3D effects and real-time shadows providing depth to the interface. The feel is dynamic and there are more layers in the UI, enabling developers in particular to bring about customization of their choice in their apps. In comparison, the Kit Kat has a much flatter look about it. Android L also features buttons looking more stylish with a face lift and they look very alluring.
b)Security – This is one area where the improvement is the maximum and most profound. You now can have pattern unlocking and even facial recognition to help you build more security. Data encryption by default and the provision of the 'Kill Switch', are other features that will make hacking or stealing the Android L smart phone an exercise in futility.
c) Notifications – It is quite irritating to keep unlocking the phone to look at them. With the Android L, you can look at them without unlocking your phone as they integrated into your lock screen. You also will not get interrupted in your activity by any call or email or text message like before. They will pop up at the screen top and you can either attend to them or ignore them with a light tap and continue with what you are doing.
d) Battery power – Android L will help you manage battery resources much more efficiently and boost usability. You will now get to know when to start charging and also see the progress of charging taking place.
There are other changes but those above mentioned above are the most significant. You are sure to enjoy using this OS as it is different to what you have been exposed to till now.