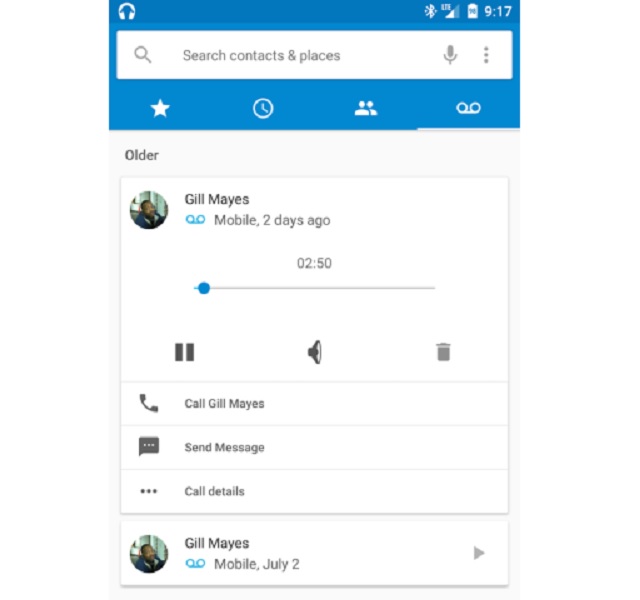 Android M is promising to bring in some new stuff that was not possible in earlier versions of the OS. The Lollipop did bring in the Material Design but has not been able to generate a lot of enthusiasm among users to upgrade in a hurry. Currently only 12% of users are on Lollipop with a majority still on Kit Kat and earlier versions like the Jelly Bean.
A key differentiator on the cards
One feature that will differentiate the Android M will be the visual voicemail that would be built into it. This will be a native one provided as dialer support and therefore obviates the need for each of the carriers to develop their individual visual voicemail app. However, that does not mean carriers would not have to add support to the service. They would have to do that and here is where Google has to play a more convincing role. With only Orange and T-Mobile having done so, Android M may not appeal much to users of other carriers if they are not able to sort out the visual voice mail support to Google.
Considering that visual voicemail has been on iOS since 2007, Android has taken a long time indeed to get this one going across the board. As of now, users have to depend on the app of their carrier or on Google Voice. They have to pay extra to the carrier and that is a dampening proposition. Apple though was smart enough to tie up with AT&T and offer it as a bundled service right at the outset itself.
Many users of the Android have been frustrated by the lack of this facility and have shifted to the iOS or have not moved from the iOS. Google can hope to get back some of these customers if this feature becomes a reality.
Developer preview of Android M sparks hope
The first reference to this was made in the developer review of the Android M and it is more than likely this time it will feature in the final release. Google's earlier strategy of leaving it to the carriers as well as developers to provide third party solutions has not worked and they have alienated many users due to this.
Android M with this feature will appeal to users who have up till now had to by compulsion resort to a work-around arrangement with Google Voice app. Now they can straight away view the voicemail messages without dialing the voicemail system of their carrier and tolerating the prompts.
The visual voicemail on the Android M will even have its tab right at the message center. The voicemails will be viewed as they are set on cards and you only have to click the one you wish to access for the audio. There would be separate playback controls for each of the cards along with links for quicker response to these mails either by phone or through message.