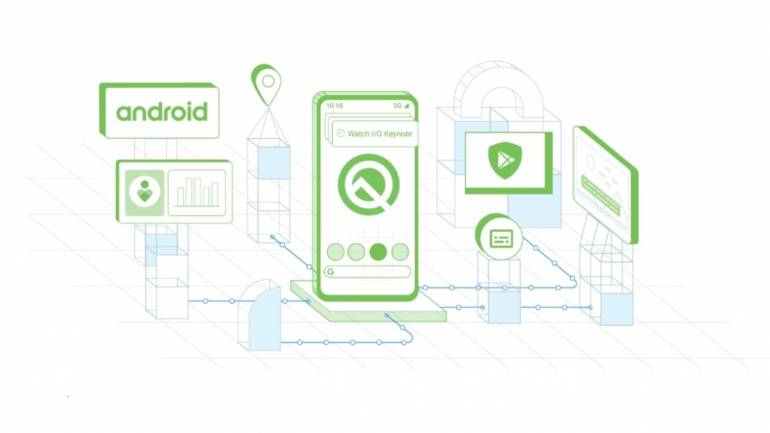 The 4th beta of Android Q introduced us new accent colors, face authentication, a small change of the lock screen icon location, improved back gesture icon, and small user interface tweaks. More features also include Smart Lock might be getting rebranded to "Pixel Presence", new Google Pay in the power menu, a preview button on live wallpapers, the return of the contextual rotation button, and notifications can now be swiped away from either direction.
Now, Android Q beta 5 comes with even better features. According to Google in the Android Q Beta 5 announcement, it has implemented what it calls "handles." As there is no Home button to long press to trigger the Assistant while using Android's new gesture navigation system, Google needed a way to still give users access to the voice assistant.
This minor UI element pops up in both bottom display corners to let you know where to swipe from. They only appear for a second while switching apps or opening the Recents menu. A multi-colored animation will play at the bottom of the display to indicate that the Google Assistant is launching.
Force dark mode is back
Android Q Beta 3 included a feature that would force dark mode within apps. This was great for apps like Instagram that haven't implemented its own theme changer. Unfortunately, the functionality broke with Beta 4. Fortunately, Google has found the fix and it's back with Android Q Beta 5.
Dark boot animation
Android Q is all about dark mode. With Beta 5, this new theme is making its way to the operating system's boot animation. To enable the feature, all you need to do is turn on the dark theme within the phone's Display settings. For now, the dark theme appears to only work on the Google Pixel 3 and Pixel 3 XL. Older handsets, as well as the Pixel 3a line, don't appear to support this feature just yet.
Squeeze to talk
Active Edge allows some Pixel owners to launch the Google Assistant by squeezing the sides of their handsets. To go along with the "handles" animation, there is a new "Squeeze to talk" dialog that pops up when using Active Edge. The message only pops up when you squeeze extremely slowly.
Screen pinning with gesture controls
With the release of Beta 5, Google has brought back the once removed feature screen pinning and found a way to make it work with gestures.
To use the feature, you'll first need to enable screen pinning. To do this, go to Settings > Security > Screen pinning. After it is toggled on, open an app and half swipe up to jump into Recents. Tap on the app's icon and choose Pin. As seen above, swiping up and holding will unpin the app.
Silent notifications
Android Q Beta 5 enables silenced or less important notifications to be grouped. You won't see the notification on the lockscreen or in the status bar, but you will see everything added to a small section after swiping down the notification shade.
Navigation drawer peeking
Android Q's new navigation system is here to stay whether you like it or not. While you can switch back to the old three or two button setup, it's clear that Google envisions a future of swiping around the operating system. The problem with this change is that it introduces a new back button that works by swiping in from the left or right edge of the display. This new feature broke support for navigation menus that also relied on an inward swipe.
Android Q Beta 5 sort of fixes this problem. As hinted at earlier this month by a Googler, the firmware now supports "peeking." Now, if you want to access an overflow menu, you need to precisely place and hold your finger on the very edge of your screen for a full second. A slow or fast swipe will trigger the back action.
That's all the new updates for the Android Q beta 5. We're excited to see what's in store for Android Q in the next beta.