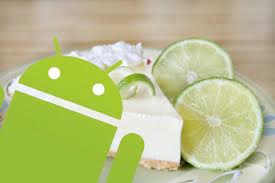 Android 5.0 will be here soon enough. And that means that within 2 years or so, we might actually see the Key Lime Pie update hit our devices.
Jokes aside, here is the list of Samsung devices rumored to be receiving the Android 5.0 Key Lime Pie update at some point in the future:
-Galaxy S3
-Galaxy Note 2
-Galaxy Note 10.1
-Galaxy Note 8.0
-Galaxy S4
Who is left out?
A number of popular devices have been left off the list, including:
-Galaxy S2
-Galaxy Note
-Galaxy Ace
-Galaxy S3 Mini
-Galaxy Young
-Galaxy Premier
At this point, everything is pure speculation and neither Samsung nor Google has confirmed anything. Sources include mobile websites like SamMobile.com, so take this information with a hefty grain of salt.
Or just ignore this information and wait until May, when Google will officially announce Key Lime Pie and all its wonderful new features.
Note: not all models of the devices listed above are excluded or included. To view a full list of the (rumored) specific model numbers and other information, check out this article at SamMobile.