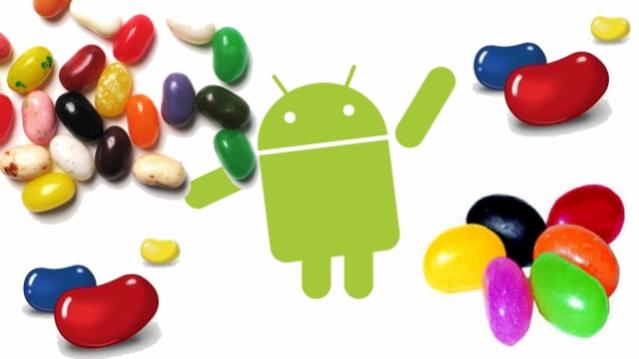 Android's platform distribution statistics is something that is no secret from the world of smartphone users and is updated every month. This is primarily to keep a check on the versions and their usage levels on different devices. This also is a reference point in developer dashboards and indicates the market preferences. This time again as the numbers are updated, we find a few interesting points to ponder upon. The results are as follows:
According to last month's data, KitKat saw a small rise of 1.4% and it has risen to a negligible 1.8% this month.
Jelly Bean scaled up from 59.1% last month to 60.7% this month.
Gingerbread counts continue to deteriorate and have sunk to only 20% of devices.
Ice Crème Sandwich stands at 16.1%, i.e. 0.8% lesser than the last update.
Froyo and Honeycomb stays at 1.3% and 0.1% respectively, unchanged since the last record.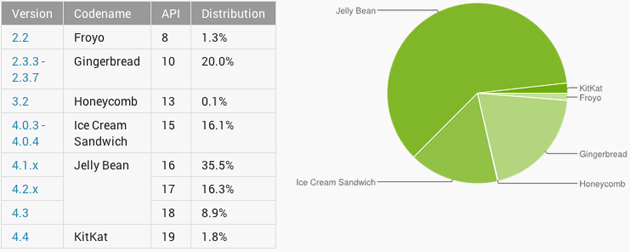 The whole data is compiled based on the number of devices accessing the Google Play Store in a period of Seven days. The alarming figure of KitKat is indeed a matter of concern. It's already been three months since its inception and the platform is still used in less than 2% of the devices worldwide – What could be the possible reasons?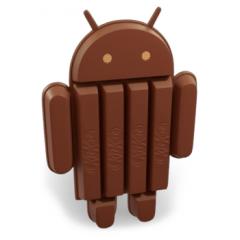 Upon its release last year, KitKat was hyped and considered to be the most innovative and practical platform for Android devices. It has some of the most beautiful and most useful features of all existing Android platforms. It was even designed to run on as low as 512 MB of RAM which is prevalent in most entry level devices worldwide. Some of the prominent features that make KitKat outstanding are Printing framework, Storage access framework and the uber cool Immersive Mode wherein, a user can use the whole screen for viewing content. Gaming is a blissful experience in KitKat immersive mode as the system UI comprising of the navigation bar and the status bar is completely hidden and one can enjoy the app in full length and breadth of the screen. There are other notable enhancements in Graphics, Media, Connectivity and Security as well. But despite all this updates it still is less popular among the mobile enthusiasts, while it should have been the other way round!
The Analysis
A 0.4% growth is disturbing, especially in this mammoth of a market. A suggestive conclusion of this is – maybe because of the limited release of KitKat 4.4, the reach isn't that impressive. Till now it is being rolled out only through Nexus and Motorola devices and due to certain incompatibility issues with other platforms, third party manufacturers are hesitant to upgrade. To top it, Motorola and Nexus have smaller market share when compared with the likes of Samsung and Apple. A strong ray of hope is in its rise. Apart from the existing KitKat installed devices, HTC is also slated to start with the updating process. Hence it is more than likely that KitKat will grow in the next report. Let's wait and see.