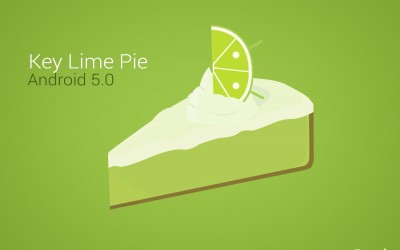 Google released Android 4.3 earlier this year. It was one of the smallest Android updates in recent years, due largely to the fact that it was the third Jelly Bean update after 4.1 and 4.2.
Fortunately, Google hasn't run out of ideas: they were just saving their creative juices for the next big Android update. That Android update has long been rumored to be Android 5.0 Key Lime Pie. And now, we can confirm that Android 5.0 has been spotted in the wild running on the Nexus 4 and Nexus 7.
Spotted at the Chromium Project
The sighting of Key Lime Pie took place in Google's Project Chromium bug reports. The specific bug report has since been removed, although we know that the build was officially labeled:
–KRS36B
Google employees were apparently testing the build on the Nexus 4 and Nexus 7.
Android 5.0 Key Lime Pie Release Date Should Be October
All stars are aligned for an October release for Key Lime Pie. That will be Android's fifth birthday and it's also when Google is expected to announce a Nexus 5 (and Nexus 10). The Nexus release date may be October 2013 but other devices may not get the update until well into 2014.
It's definitely a dessert starting with 'K'
For months, people have just assumed that the next Google update would be called Key Lime Pie despite no official indication from Google. What we do know is that the next update will be a dessert that starts with a 'K', which narrows down the list of dessert names considerably:
-Kiwi pie
-Krispy Kreme
-Kettle Korn
-Kit Kat
-Kahlua
Key Lime Pie gets my mouth watering more than any of those other desserts. And besides, most of those terms are brand names that Google wouldn't use. You can expect Key Lime Pie to appear on your Nexus devices before the end of 2013.