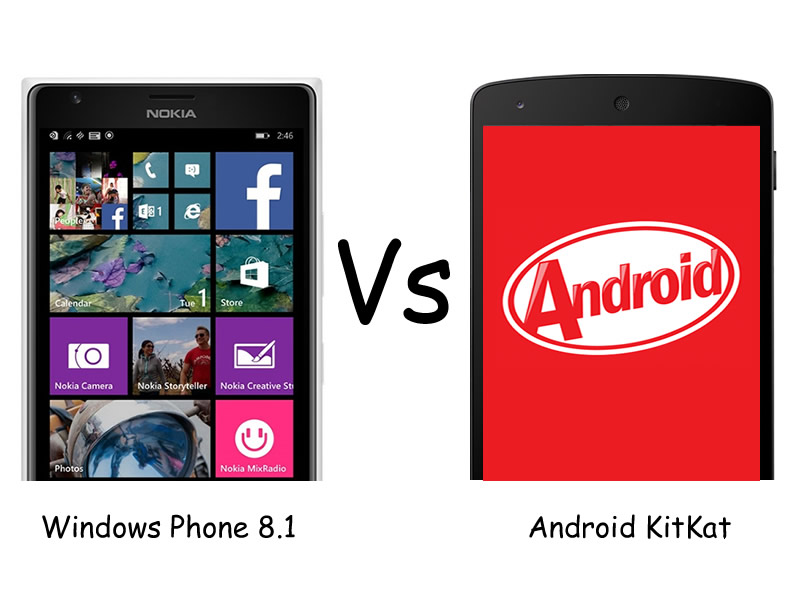 One of the reasons for the continued success of the Android and Windows platforms has been their ability to come out with improved versions, taking into account user preferences and conveniences. Both have undergone many revisions over the last few years and their latest versions are as of now the best that they can offer.
But even with these improvements, they are quite different to each other. So let us find out how.
Looks
The Windows Phone 8.1 is visually very appealing due to its scrolling interface that is replete with Live Tiles. Each of them is a widget that is not only colorful but occupies much less space as compared to the Android. Being color coordinated ensures there is no confusion for the user.
The Windows apps have also been designed to mesh with each other and fit the vertical interface scrolling convenience. The look is minimalistic with clean white letters on dark black background.
As compared to this, the Android interface is conventional and looks like any typical mobile OS like the one on the iOS. Here too, you have tiles in rows with spaces between them and since the bar at the very bottom of the screen displays these tiles as well, you need to scroll horizontally only.
The apps are mainly static ones but you also get widget support if you wish to for the clock or calendar. One great advantage is Android is pretty much for the user to make things the way he or she wants them. There is a lot of customization potential.
 Apps
This is where Android scores high. Windows certainly have to get their apps problem sorted out and despite the numbers growing steadily, they have a lot to do to catch up. You may argue that since most people use common apps on a regular basis, Windows would serve the purpose but it is all about choices and Android certainly has much to offer. Business users may however relate more to the Windows platform given its support from Microsoft lineage. But gamers and casual users will prefer the Android.
Features
Windows has got in the Action Centre that is similar to the notification screen of the Android. The general operation is much faster due to this of the Windows phone. Windows competes effectively with Android for other features as well such as the flow keyboard that makes it easy to type fast. The battery saver plus monitor is also similar to the one you find on Android and you do not have to display the apps on the home screen if you do not feel like. The speed dial function is another useful addition from Windows.
Integration with social media sites is also smooth. It enables you to see the contacts status updates as well and not just the pictures or the contact numbers. The Wi-Fi Sense feature in Windows is another very useful feature that saves time for the user to connect to the internet in public places having the facility.
 Some Of The Top Hidden Features In Windows, iOS, And Android
The three operating systems in use, namely the iOS, Windows and Android have a number of commands, short cuts and tricks that many may not be aware of. Some of them have not been documented and this post is an attempt to highlight a few.
Starting With Windows 7 and 8
Not many use the shortcut Windows-X. You can by invoking the control panels through this key combo get to control battery profile, switch off or on the wireless status, change speaker volume or display characteristics. The shortcut launches the Windows Mobility Center in Vista as well. You will thus be able to change a number of things with one keystroke.
Another useful feature is the ability to record each click and keystroke. This assumes importance especially when providing technical support to somebody. Windows has the tool called the Problem Steps Recorder which will record every mouse movement, key stroke and typing. Once you are through, the file is saved as HTML with screen shots of each step captured in a ZIP file that will help you identify later where you went wrong.
If you need to open one more Explorer or any other program that you are currently working on, just hold down the Shift, click on the taskbar and you will have the second copy in front of you. You can do this by also right clicking the icon and selecting the one you want.
Screen shots can be stream lined easily by pressing the Win PrtSc instead of the PrtSc one. This will get you a full screen display that you can save to your Pictures library. Of course, you can also use the Windows 7 Snipping Tool if you are comfortable with it.
Sending attachments through email also becomes a lot easier when you are on Outlook or Windows 7 and 8. There is no need to sift through the directory. You only have to right-click the file you wish to send and select the Send to > Mail recipient option. The email-client will open up a new message with the file attached.
You may not also know about the File History backup system that allows you to archive old file versions. You just have to connect an external storage device into which these files will be archived for posterity.
iOS
The swipe up feature of the iOS is not known to many. This simple action will invoke a very useful menu that will enable the user to access common functions including those of on/off Airplane Mode toggle, Bluetooth, Rotation Lock , Brightness slider and music controls to name a few. The user will also be able to get access to the clock, camera, calculator and flashlight with this action.
If you wish to have proof of when you have received or sent an SMS then drag to the left of your Messages screen. Do this when you are on a contact message history to see the correct time of the message sent by you.
You can also use the compass app as a leveling feature. Just swipe left and get your phone to work both vertically and horizontally.