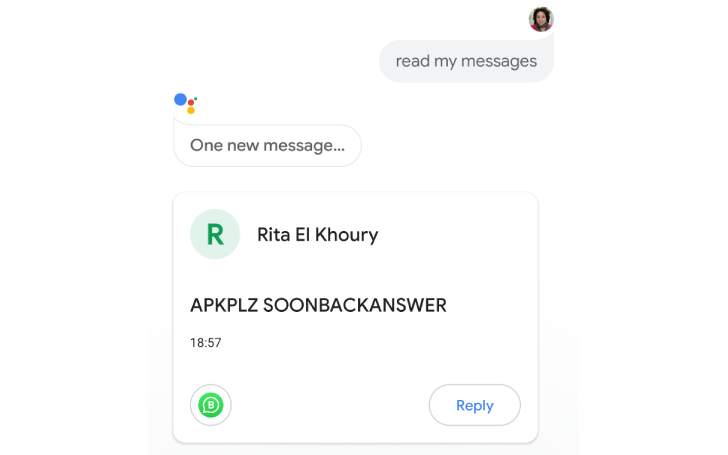 The day will come when we all become very dependent to AI and that future is starting to shape now as Google Assistant, Alexa, and Apple's Siri are becoming smarter than ever. These AI assistants do some of the work for us and, occasionally, we don't even have to touch our phones to do some tasks.
As for well-loved Android, here are the latest news from Google's very own Assistant.
Google Assistant now reads and replies to messages from more apps
Previously, Google Assistant can only read and reply messages from selected apps, particularly Google-developed apps such as the built-in Messages app and Hangouts. Today, however, the it seems the number of supported apps just exploded.
Testing confirms that Google Assistant can now read and reply to messages from third-party SMS apps such as Pulse SMS, WhatsApp, Slack, Telegram, etc. Some people are reporting success with Google Voice, too. It's possible some people out there have seen this integration with different apps for a while now, but it seems many people are just seeing the feature now.
To see if Google Assistant can read and reply to messages from your favorite app, follow these steps:
Once you receive a message, open Google Assistant on your phone by saying "Hey Google" or whichever method you prefer. Then say, "Read my messages."
If you've never done this before, Google will ask for your permission to read notifications. Click "OK" on the pop-up (if you've done this before, skip to step 6).
In the Notification Access section of settings, toggle the Google switch to "On." Hit "Allow" in the pop-up.
Now say, "Hey Google, read my messages" again. This time, Assistant will open.
Assistant will show you the first message and ask you if you'd like it read out loud. It will also tell you which app it came from.
You can either ask Google to reply to the message and speak what you want it to say or you can type it out manually.
Once you're done, you can have Assistant send the message. If there are any other messages, Assistant will repeat the process.
Google won't listen to Assistant voice recordings in EU
In early July, word leaked that Google employees and contractors listen in on your Google Assistant voice recordings. However, it appears some regulators didn't think Google's explanation was satisfactory. Germany's data protection commissioner declared that the country is investigating Google's monitoring policies, causing Google to temporarily pause all monitoring practices in the European Union while the German investigation proceeds.
As such, for the time being, your Google Assistant conversations in the EU won't be monitored by human operators. The temporary stay will last for at least three months but could be longer. Outside the EU though, monitoring will continue.
Google explained its motivations while simultaneously downplaying the significance of its audio monitoring. Google isn't alone with these, though, both Amazon and Apple monitor voice assistant conversations for Alexa and Siri respectively. Either by coincidence or by design, Apple also revealed today that it will stop letting contractors listen to Siri voice recordings.
So, there you go, Google Assistant improves its features by reading more messages while, meanwhile on one side of the planet, authorities think that this violates user privacy.