The more number of online accounts we have, be it social media, various subscriptions or our various work and personal email ids, the more number of passwords we need to remember because it has always bee wiser not to use the same password for two things. But the increasing number of online activity has led to so many passwords, along with non-online passwords like out credit and debit card pins, the combination of our safes and even out briefcases containing vital documents, that in all, it becomes too much to remember.
It is not possible to remember each and every one of the passwords, I have even been a victim of a debit card being blocked because I entered the wrong pin thrice because I just could not remember that particular combination. Writing it all down at one place also seems very risky because should someone get their hands on it, it will be the end of our world as we know it.
Therefore, please give a warm embrace to an app called 1Password. 1Password creates strong, unique passwords for every site, remembers them all for you, and logs you in with a single tap. It's the best way to stay secure and the fastest way to use the web.
With it you can do the following:
– Let 1Password remember all your passwords so you do not have to
– Sync items over from 1Password for PC, Mac, iPhone, or iPad
– Bring all your Logins, Credit Cards, secure wallet items, and more on the go
– Log in to websites with a single tap
– Protect your vault with a single Master Password
– Secure with Tamper-proof Authenticated Encryption using AES-256 and Encrypt-then-MAC
– Auto-Lock keeps your data protected even if your device is lost or stolen
– All features free to try for 30 days to all new customers!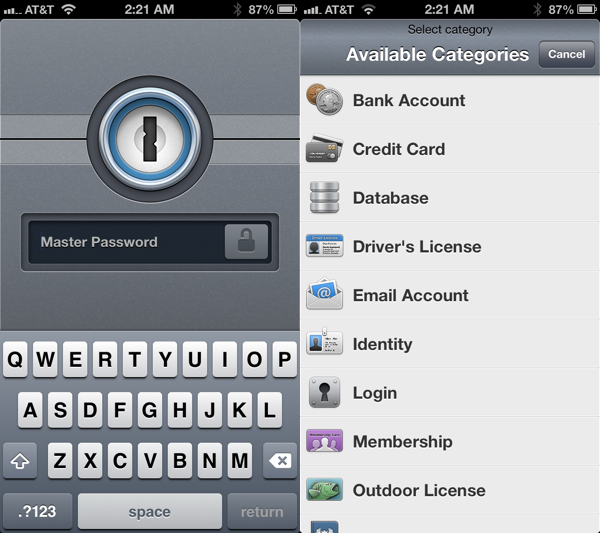 1Password is a beautiful, secure app for passwords and other sensitive items you need to keep safe. Take advantage of our pocket and purse slimming technology. Store thousands of wallet items without any of the bulge. Never leave vital information at home again!
– Store Credit Cards, Secure Notes, Passports, Bank Accounts, and more
– View attachments added from PC or Mac
– Find what you need quickly with powerful search
1Password keeps your life in sync with other editions for PC, Mac, iPhone, and iPad, sold separately at 1Password.com.
– Dropbox support for automatic cross-platform sync- Use Folder Sync to keep your data in sync without using the cloud
Unlock the full power of 1Password 4 and make changes on the go with a single in-app purchase—no subscriptions. Create new passwords, edit existing items, mark items as Favorites for quick access, and more!
– Add new items like Logins, Secure Notes, and Identities right from your Android device
– Generate strong, unique passwords for every site with our Strong Password Generator
– Mark your most-used items as Favorites for quick access
– Organize your items into Folders
– Customize your items to save everything you need
With so much on offer, 1Password proves to be the best deal for you to be more secure about your confidential information, without beating yourself up about remembering everything!