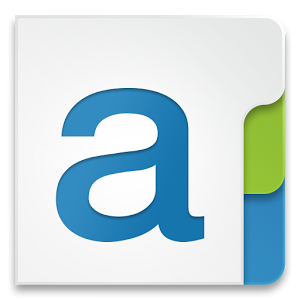 aCalendar
Yes it is true that every smartphone has a calendar but if you are someone who uses their calendar as a planner then the basic calendar that is built in the phone is not good enough. Yes, there are planers available separately, however, it's hard to find apps as good as the one we stumbled across recently when it comes to this. Say hello to aCalendar – the Android Calendar.
The usage of a calendar is beyond which day falls on which date. It is much more, including birthdays, anniversaries, important meetings, events and much more. And one needs tools to make this easier, for example, color coordinating a calendar based on personal and professional events. This makes planning our lives much easier. Thus, aCalendar is ideal platform to plan our day to day happenings.
aCalendar includes the following features:
– intuitive navigation with smooth transitions between day, week and month view
– 48 colors per calendar, 12 per-event colors if supported by the calendar (Android 4.1+ with Google calendars only)
– flexible recurrences (e.g., every 2 weeks or every 3rd day – first select weekly or daily, then set the interval)
– birthdays with photos from your address book and editing
– Fullscreen widgets for all 3 views plus floating 7 days
– uses Android's native calendar backend and synchronization
– no battery drain (aCalendar gets push updated from the system instead of using frequent polling)
– moon phases and zodiac signs for birthdays
– QR and NFC barcode sharing of events
– no ads
There is also a aCalendar+ version with the following features:
With aCalendar+ you get a dozen of extra features including more views, advanced settings, Tasks, more color themes and public holidays.
Also you'll find business-oriented features like invitations, free/busy settings and sharing as text or file.
Finally your purchase helps protect the habitat of the endangered Mountain Tapir as they donate 10% of all revenue to the cause of rainforest conservation through the World Land Trust.
Here is a brief guide to using the best aCalendar features:
– move forward and backward by swiping vertically or volume rocker
– switch between calendar views with a horizontal swipe (opens the day or week you start the swipe gesture on) or double-tap for day view
– tap to open event
– long-press to add new event
– long-press on mini-month to go to today or jump to date
– tap on photo to open quick contact menu
– 3-finger-tap to go to today
TRANSLATIONS
native language support for around 30 languages. Those are mostly user-contributed, please contact me if there is a bad translation or you'd like your language added!
PERMISSIONS
aCalendar only asks for mandatory permissions for its functionality: Read and write contact data for birthdays as well as read and write calendar data for events. 'Send Email to guests' is bound to 'write calendar data' by Google. NFC is for sharing events by touching another NFC-enabled phone, and requires manual confirmation.
APP2SD
Unfortunately, app2SD cannot be supported, because home screen widgets do not work from SD. This is an Android limitation. But, aCalendar is optimized not only for speed but also for size.
So if you need something more than the usual, run-of-the-mill, in-built phone calendars, aCalendar for Android is the way to go!
Birthdays for Android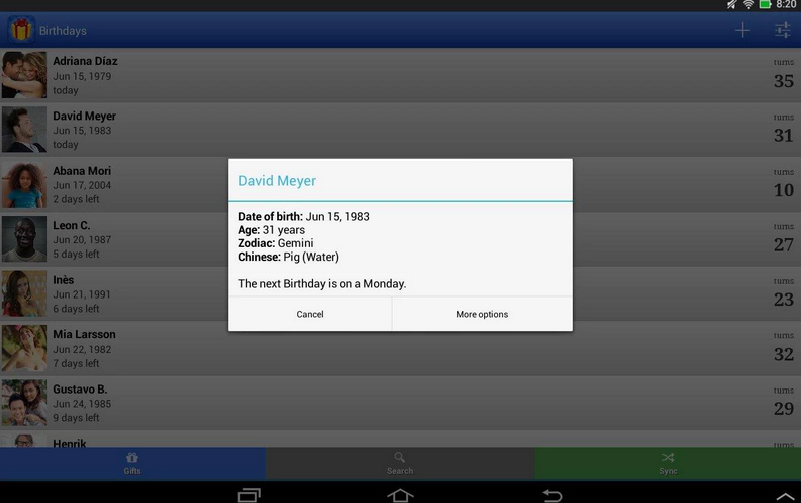 Don't get me wrong, people will still be upset with you if you do hurtful things but they will not be upset with you because you have a tendency of forgetting other's birthdays because now you will not. If you are someone who just cannot remember dates, I understand because I cannot either, but they don't. Our friends and family who get seriously upset when we forget to wish them or if we forget to do something special for them. But, to be honest, even we don't like it when our special people forget our birthday so we cannot really blame them. Yes, there is a lot in our mind all the time with the job and everything else but since we use so many apps for different aspects of our lives, why no use one that makes our loved ones happy!
So let us welcome Birthdays For Android – This free app reminds you of your friends' and family's birthdays. It is simple and respects your privacy. Also, it is completely ad free!
You will never forget an important day anymore. Birthdays can be entered manually, or synchronized with your contacts or Facebook friends. Duplicates are automatically removed.
Choose to be reminded in advance, or on the birthday itself. See upcoming birthdays on your home screen using one of four widgets. Say Happy Birthday via text message or tap to call them. We even track Chinese and Western zodiac signs.
The app synchronizes all birthdays with your contacts list and Facebook, and offers secure backups of all dates to the external storage. Your birthdays will never be lost, and they can be easily transferred to a new device later. You will l always know which day of the week your friends – and how many days are left until that date.
Do not lose track of birthdays in the noise of your calendar. This app simplifies everything! Easy and clear. Everything in one app.
Birthdays for Android requires the following permissions:
• Read and write contacts: for displaying and editing all your friends' birthdays right in the app
• Internet access: for importing birthdays from Facebook and looking for great gifts online
• USB storage: for importing and exporting all birthdays to external storage
• Run at startup: for setting up the reminders after your device has been restarted
Here is its privacy policy:
Your personal data is 100% safe. Promise! Any personally identifiable information will only be transferred from or to your device if you explicitly ask for it, i.e. when you import birthdays from Facebook or if you enable online synchronization.
It is true that our lives have become more complicated in recent times and we constantly are jumping from one thing to another, but, in this fast paced life, we should never forget to make our loved ones feel special because they are the ones who will always be there for us. And Birthdays for Android is also good for making good relations professionally. Personal attention goes a long way even in the work place!