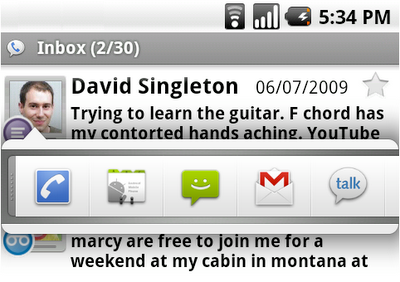 Android own checklist for you: Todoist
Lists. We all make them and use them to remind ourselves so that we don't forget things, and yet we often end up forgetting them all when we lose track of the list itself. Today, we are fortunate enough to live in the smartphone generation where apps on our devices allow us to do so at our convenience and make sure we don't forget a thing. Todoist happens to be the perfect cure for forgetful folks to help them get their priorities and chores organized and executed with efficacy.
Todoist is a nifty app for the Android platform that has reminder and lists integrated into it to add in another feature of inboxes that enables its users to see what they have received from say a team member on a particular task in case it was forgotten.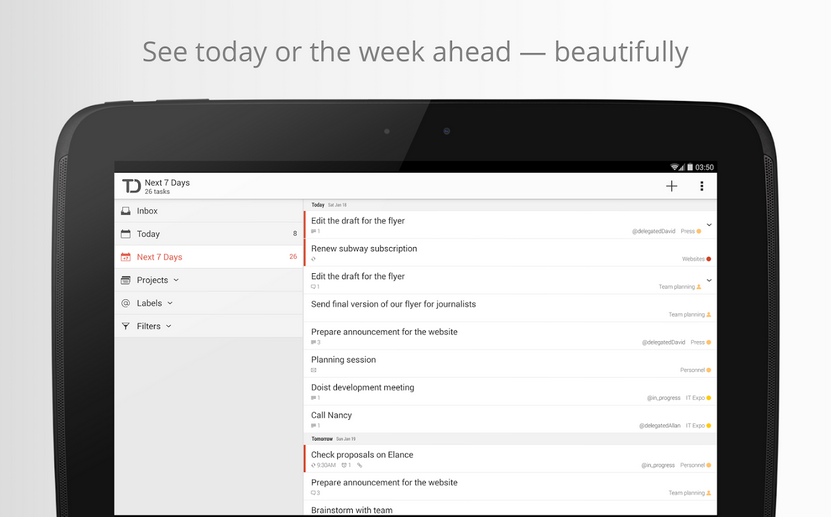 The app is set in a white and red interface which is predominantly white and red at a few edges and in the selected text.
Once you launch the Todoist app, the first thing you see is the login which you can use Google account to access as well.
A blank screen appears where you are asked to add in a reminder for yourself which is pretty straight forward.
You can select the folder that it will appear inside and the day you would like it to remind you including an option for everyday.
Once you do so, the reminder will get fixed inside your inbox or any other selected folder as you have added it.
To the left you will see a pull out where you can see:
• Inbox
• Today
• Next 7 days
• Projects
• Labels
• Filters
Labels is another cool option in the premium range of elements within the app.
Inbox is your main folder where majorly everything is saved. Today is where you can see a long list of what's on your plate for the current day. Though this is pretty straight forward, the graphics and slickness of the app makes for a good feel to the user.
An extended feature of the app is the level of priority it has on the app and in lines with that the time at which it has to be completed. A level of priority can be assigned at any time.
To add to this, projects can even be assigned and this is what makes the app unique to an extent.
Within the project category, you can even add in a sub project which further can be assigned to team members having common access to it so that any changes made are visible to everyone in the office.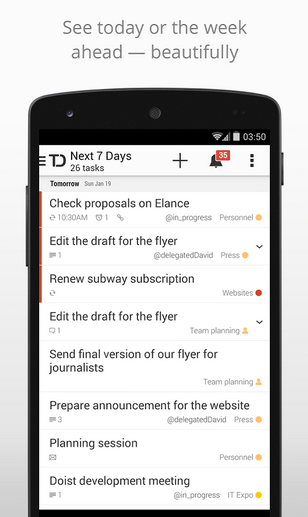 In case you have a huge list of never ending tasks you can even use the search functionality and look for a task that has been hidden in your pile somewhere.
You can also take a look at the notifications in case somebody has sent in a file for you to see and complete.
Once done, you can hit the complete button and again everyone having common access to the project gets to see it. Sounds for the notifications can also be set by you.
You can also set the time for the reminders being 10 minutes before the task, 20 minutes a day, etc.
The Todoist Android app is the magnificent work of a top developer named Doist and shares a significant and thriving popularity amongst its peers.
Never miss a notification with Pushbullet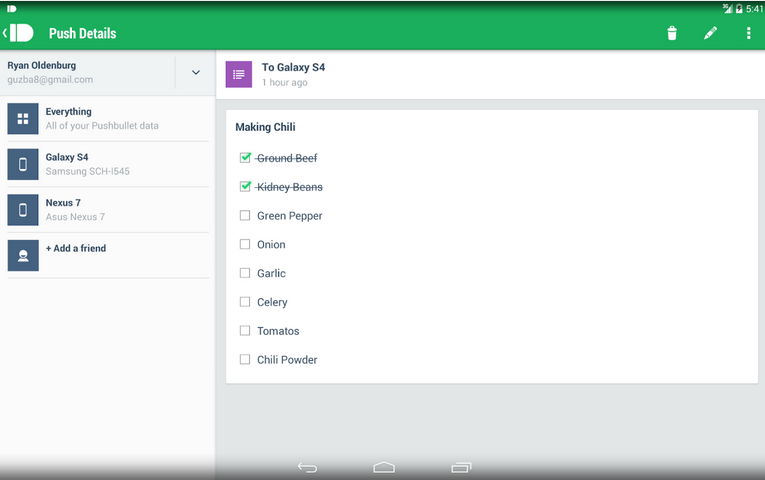 Here's an app that will take notification awareness and make you are aware about it literally the minute it hits the screen. This of course for users who live a technologically-powered life that fluctuates between their laptop and phone screens, and have almost nothing else in the midst interfering with this routine.
Push notification literally is the one thing to hit your phones that instantly tunes you to everything that is going on your device whilst you are somewhere else on the internet world or involved in an intense gaming experience on the very same device.
Pushbullet comes in and takes a huge leap forward and the does the magical appearing act only using your laptop device too.
Remember how excited you got when you installed an app from the Google Play Store on your laptop and it hit your Android device directly. That experience is exactly what Pushbullet is all about only through an extended version of the app.
Its takes sharing to the next level and ensures you never miss a notification on your phone even while you are out an about, Facebooking, programming another app, writing or even watching a movie for that matter.
The way the Pushbullet app works is pretty straightforward and easy to delve into. Once you integrate the two devices through an account, whatever appears on your phone will appear on your screen as well and your to-do lists will be instantly updated.
Further, once you download the Chrome/Safari extension, you can do a whole lot more from there.
Let's say you want to send in a link from your PC to your phone.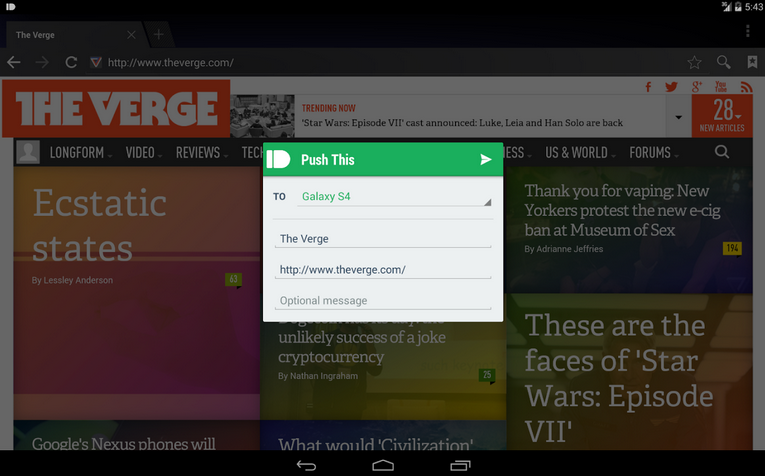 Fire up the extension, add in the link in the box that falls and hit the send button. Immediately you will see the link in your notification on your device. Pretty neat ha?
You could do the same when you want to send a file to your phone.
The Pushbullet app will enable you to not only transfer things from your phone to your laptop, but even to other devices.
In this case, you will receive a notification of say a text message on both your laptop and your mobile devices as a security measure to ensure you are the authenticated user.
Imagine this, you're on your laptop wired in and have no clue of the world outside you. And your girl/boy-friend calls and it's important. Will you miss the call? Of course you won't because you'll have it flashing right at your laptop screen and all you will have to do then is pick it up.
Once you check in to the main page on the app of your device, you will see a list of everything that you have sent to everyone and what all you have received.
All in all, the Pushbullet Android app is pretty neat and does a fabulous job in entertaining your everyday needs of an all in one device.
This is a great substitute to sending files using Google drive or Dropbox as this is instantaneous and you have to wait literally for a fraction of a second.
Don't forget to download the Chrome extension while you are at it for a more holistic experience of this highly utility driven app.